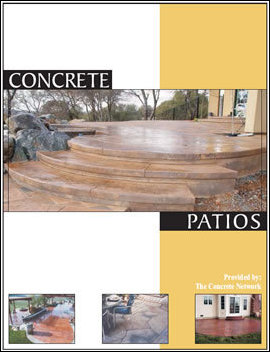 Decorative concrete has become more popular than stone, brick and tile for patios because it costs less, is better in quality and it has the unlimited ability to be created into whatever you want as far as color, texture, and pattern go
Yucaipa, CA (PRWEB) March 9, 2006 –
Americans everywhere — from California to New England, from Texas to Minnesota — are spending more time at home and more time outdoors. Back yards are being transformed into luxurious extensions of the house. They're the new favorite room to relax, entertain, and cook. And the heart and soul of the backyard resort area is the concrete patio.
The Concrete Network, the largest and most comprehensive source for concrete information, released a free e-book about decorative concrete patios. The e-book features information on patterns, colors, textures, designs, and styles possible with decorative concrete. It showcases numerous photos of concrete patios, outdoor kitchens, and outdoor living rooms. The e-book also provides concrete color charts and popular stamp patterns.
Decorative concrete is quickly emerging as the new material of choice for today's patio. Because of the versatility—it can have smooth or rough texture, shaped in any style, colored in any hue, and can mimic other patio materials such as brick, slate, flagstone, etc.—concrete patios are as unique as their owners. Modern stamping and texture and coloring techniques complement any landscape and provide a touch of individuality to the back yard.
"Decorative concrete has become more popular than stone, brick and tile for patios because it costs less, is better in quality and it has the unlimited ability to be created into whatever you want as far as color, texture, and pattern go," said concrete contractor Mark Foreman, Apex Concrete Designs in Auburn, California, and a member of The Concrete Network.
Colors and patterns for stamped concrete, one of the most popular decorative concrete applications, are often chosen to blend with other stone or tile elements at the residence. Complex designs incorporating steps, courtyards, and fountains can be achieved. Stamped concrete can also be blended with other decorative concrete elements such as exposed aggregate finishes and acid-etch staining. The Concrete Network also offers a free online concrete design tool to mix and match various patterns, such as ashlar slate, European fan, cobblestone, and others, with a variety of color choices for concrete patios, pool decks, driveways, and entries.
Established in 1999, The Concrete Network's purpose is to educate consumers, builders, and contractors on popular decorative techniques and applications including stamped concrete, stained concrete floors, concrete countertops, polished concrete, concrete walkways and much more. The Concrete Network's Find-A-Contractor service provides visitors with a list of decorative concrete contractors throughout the U.S. and Canada. The service is fully searchable by 22 types of decorative concrete work and 198 metropolitan areas throughout North America. For more information, please visit http://www.concretenetwork.com
###