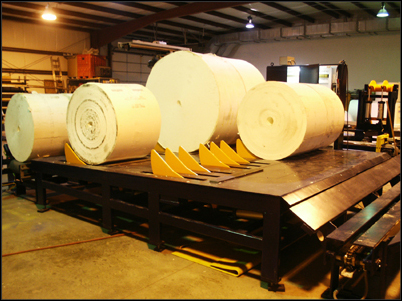 That is why many general material handling system companies attempt one of these projects and never attempt another.
Blissfield, MI (PRWEB) March 8, 2006
Industrial roll handling is a complex science, requiring equipment designers and installers to not only understand how best to wind or unwind and transport rolls of material, but also how the material itself will behave in the process and how to integrate the equipment with existing systems.
While it may be tempting to design such equipment in-house or have a machine shop or material handling vendor handle the project, this is often a risky idea. Suppliers without extensive experience in the design and installation of this specialized equipment often get in over their heads, eventually coming back to their customers for more money, technical support and time.
"There is definitely an art to roll handling," says Terry Benton of S2F Engineering, a systems integrator and a single-source supplier of roll handling systems, material handling equipment and specialized machines. "That is why many general material handling system companies attempt one of these projects and never attempt another."
Jeff Holt agrees. A mechanical engineer at Konica Minolta Manufacturing USA in Whitsett, NC, Holt is responsible for the production line material handling systems in the plant that produces silver-based photographic paper.
"I've dealt with a lot of vendors, including material handling and machine shops," Holts says. "Many of them will give you a low-ball price to get the contract. You find out later on that they have cut corners to save some money, and you suffer from that later, possibly for a long period."
As with any other bid business, vendors may low-ball the price to win a project, or may unintentionally underestimate the complexities involved. Even ethical vendors who inadvertently underbid projects due to inexperience in the area will run out of money.
According to Benton, rolls present a unique set of problems in transportation, lifting and conveying. The material itself can cause rolling and rewinding difficulties. Soft material, for example, will often wind loosely and when set down can compress and create a flat spot on the bottom. Other products, such as silicon release paper, are slick and present winding problems. Lifting such a roll with a core gripper can cause the core to telescope right out of the roll.
"Those who have in-depth experience evaluate all of these different factors before they propose a system," Benton says. "This requires them to be experts in a number of areas."
The equipment must also often interface with existing equipment. At Konica Minolta Manufacturing US, new equipment had to deliver rolls to a slitter that had to "know" when it was delivered, and then chuck up that roll for rewinding onto other rolls with different core sizes. It was vital that the two systems interfaced.
Roll handling equipment specialists such as S2F Engineering provide extensive system integration capabilities. "System integration is where we started," says Benton. "We have a lot of experience in putting together the pieces of an entire plant floor and connecting them."
For more information, contact:
Terry Benton
S2F Engineering, Inc.
368 Sherman Street, Blissfield, MI 49228
Phone 517-486-5737
Fax 517-486-6097
Web site http://www.s2fengineering.com
# # #