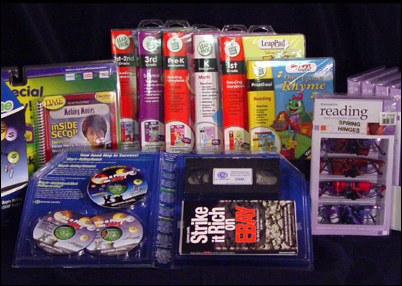 With today's new market-based environmental innovations, being 'green' now means being profitable as well as eco-friendly
Torrance, CA (PRWEB) March 8, 2006
As organic produce goes mainstream, hybrid technology overshadows interest in SUVs, and renewable resources become hot, it's clear that retailers who ignore the trend toward environmentalism do so at their peril. Even the world's biggest retailer Wal-Mart Stores has begun working with suppliers to reduce custom packaging waste, according to a recent BusinessWeek article.
One of the most promising market-based approaches to encouraging environmental responsibility is being developed by AVC Corp., a vertically integrated custom packaging innovator and manufacturer. The company is not only attacking packaging waste at its source but also creating a value-added "afterlife," where consumers keep and reuse the packaging to protect and organize multi-item sets. The approach, which costs about the same as traditional contract packaging, has boosted sales of multi-set items up to 25% at some wholesalers.
Responding to public demand for environmentally sensitive waste handling, AVC has developed a new custom packaging solution called the Environmental Packaging System (EPS) that enables retailers and consumers to recycle up to 100% of discarded retail packaging into original source material, while materials dumped into landfills could bio-degrade in as little as 40 days instead of the usual 20,000 years.
Even when traditional retail package design materials are put in the recycling bin, they often aren't recyclable into original source material, since the component paper and plastics are difficult to separate and cross contaminate at the recycling plant.
The EPS custom packaging solution provides retailers the same tamperproof security, size, and function of traditional packaging at similar cost. It uses a patent-pending design that mates a corrugated cardboard backing to a plastic cover that easily separates for 100% recycling into component source material, either at home or the recycling plant.
While the EPS retail package design works with traditional plastics, such as polyvinyl chloride (PVC) and polyethylene terephthalate (PET), it's the first to work with polyactide, (PLA), a corn-based plastic capable of bio-degrading in as little as 40 days when composting in a landfill.
AVC has brought its new "green" custom packaging technology to the US Environmental Protection Agency, which forms voluntary partnerships with packagers supporting its Reduction Conservation Challenge, a program that promotes recycling.
Reusable Retail Packaging is another "green" packaging strategy that retailers are discovering is environmentally friendly -- and also profitable.
The company's ability to mold raw plastic into cases, called thermoforming, along with integrated design capability, enabled the roll out of a patented "reusable retail package" that opens like a book with custom pockets to store multi-item products. The custom packaging design encourages customers to keep the plastic packaging for permanent storage of items like manuals, pens, and cartridges instead of discarding it into the waste stream.
One of the allures of reusable packaging is the fact that since the manufacturer's promotional material, logo, and other marketing text and graphics are built into the album/book package, this material stays in front of the consumer as long as they keep the package.
"With today's new market-based environmental innovations, being 'green' now means being profitable as well as eco-friendly," concludes Moshe Begim, AVC's President.
For more information:
Guy Marom
AVC Corp.
20550 S. Denker Ave.; Torrance, CA 90501
Phone: (310) 533-5811
Fax: 533-6077
###