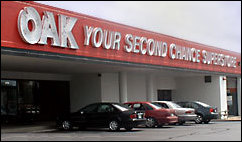 Indianapolis, IN (PRWEB) March 9, 2006
More and more individuals are finding it difficult to purchase new or used cars due to poor or just right out terrible credit scores. Most dealerships won't even give you the time of day and the ones who do, will usually charge you high interest rates resulting in high monthly payments for a car that probably isn't even close to being worth what you are paying. Not to mention the fact that if you ever forget, or not able to make a payment they will have your car repossessed the same day, no exceptions made.
Indiana residents, on the other hand, have been getting a true second chance at Oak Motors dealerships. For over twenty years Oak Motors has been providing dependable and affordable transportation for distressed individuals while helping them rebuild their credit at the same time. With dealerships in Muncie, Anderson and Indianapolis, Oak Motors has a larger inventory than any other used dealerships in the area and a wide variety of vehicles ranging between an average of $7,000 to $10,000, however there are other vehicles available that are more and less expensive.
Oak Motors built its reputation on offering sensible payment plans that fit each of their client's income and since there are no pre-set down payments on any of their vehicles Oak Motors works with you and the lender to arrive at the lowest possible down payment. To further protect your investment every vehicle which leaves the lot is first thoroughly inspected and qualifies for an exclusive 18 month/18,000 mile powertrain protection so that no matter what repair needs to be made in the near future you only pay a $50 deductible. Even if your vehicle needs heavy repairs, oak motors will provide you with a loaner so you can keep up with your busy life without having to worry about finding alternative transportation. The protection plan also includes free oil changes on every vehicle for the first 18 months.
Oak Motors also understands that purchasing a car is a very important decision and the first step to improving one's lifestyle, which is why they believe all their clients should buy with confidence. In order to promote confidence and guarantee 100% customer satisfaction they offer a 48 hour exchange on every purchase.
In today's used automobile industry its hard to find a used car dealership that will not only guarantee approval but also provide the most dependable and affordable transportation available to individuals with distress credit. For over twenty years now Oak Motors has lived up to these standards, providing opportunities for their clients to thrive, both professionally and personally. Whether they have poor credit, bad credit, slow credit, or no credit, individuals from Muncie, Anderson, and Indianapolis, Indiana truly get a second chance at Oak Motors.
For more information on Oak Motors, and to learn how they help individuals rebuild their credit and regain control of their lives, visit their new website at http://www.oakmotors.com
###