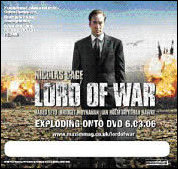 What LOVEFiLM does so ingeniously is make the process of renting DVDs so engaging that you can't but help develop a greater interest in film.
London, United Kingdom (PRWEB) March 10, 2006
LOVEFiLM, the UK's largest online DVD rental service has struck a strategic deal with Momentum Pictures which sees LOVEFiLM's famous DVD envelopes re-branded with key art from Momentum's latest DVD release release ' Lord of War '.
The envelopes, which are used to dispatch over 750,000 DVDs per month, will be used to advertise the DVD release of ' Lord of War ' out March 6th. Kristin Ryan, Senior Product Manager at Momentum Pictures said, 'With the large number of films being released these days, we wanted to find a way to truly stand out from the crowd and get in front of a targeted film consuming audience that purchases DVDs at a rate well above the UK average. Our artwork stimulates interest in the title, as well as giving a direct call to action for DVD purchase.'
Chris Bird, Marketing Manager of LOVEFiLM Marketing Services added, ' Lord of War ' is a great fit for the LOVEFiLM customer base, and the envelope re-brand looks fantastic. Given that they also serve as DVD rental return envelopes, they remain in a household for 2 weeks on average, giving them many more opportunities to be seen than in conventional print advertising. This marks a new era of consumer marketing for us, and for the film industry as a whole'
Notes to editor (further background information on LOVEFiLM):
AAM/LOVEFiLM Marketing Services provides advertising, market intelligence and research opportunities to the film industry by leveraging the broad reach and rich profiles of consumers of its LOVEFiLM and Newman services.
Based on the actual cinema, DVD and download viewing histories and demographics of over 400,000 European households, AAM Marketing Services can provide unique insight and targeted reach into precise audiences for film marketers and producers.
Using the channels of the LOVEFiLM website, email newsletters and envelopes, marketers can reach their target consumer at the point when they are making film viewing decisions. Marketing Services can provide services ranging from bespoke advertising packages to in depth market intelligence based on consumer demographics and behaviour. Focused research screenings, creative testing and audience polling are provided as one-stop services through the AAM/Nielsen NRG film research partnership.
·LOVEFiLM now provides movie download services to the AOL network.
·LOVEFiLM are the first UK service to provide legal, studio released movies available for download. Customers can select which titles they wish to download, and pay a one off fee for each movie.
·LOVEFiLM Europe's largest online DVD rental service with over 50,000 titles.
·LOVEFiLM has introduced over 400,000 people to online DVD rental.
·LOVEFiLM offers a range of packages. Packages include £9.99 a month, allowing members to have one DVD out at any one time; £14.99 gives the option of three DVDs, whilst £19.99 allows you four DVDs at a time. These packages include unlimited DVD rentals each month, free postage and no late fees.
·Light-viewing packages are now available starting at £4.99 fixed at 2 rentals per month
·LOVEFiLM also provides games rental. The packages come in any combination of DVD titles or games. For example, on the 3 disc package, you can rent 2 DVDs and 1 game, or 1 DVD and 2 games, or 3 games or 3 DVDs. It is entirely up to the customer
·LOVEFiLM was awarded the prestigious British Video Association's 2005 award for the UK's Best Rental Service
·LOVEFiLM has recently acquired Swedish online DVD rental company Boxman making LOVEFiLM the first player to expand into Europe
·Webuser independently awarded LOVEFiLM Best Service in the UK, "What LOVEFiLM does so ingeniously is make the process of renting DVDs so engaging that you can't but help develop a greater interest in film." (Webuser, March 2005)
·LOVEFiLM is also available via a number of other retailers and partnerships, including:
AOL,·Sainsbury's,·Sony, Guardian, CD-WOW, WHSmith, Five, BCA, Wanadoo, Tiscali, Film Four, lastminute.com
###