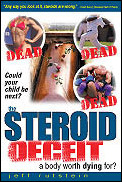 Images of drug-buff athletes may encourage a new generation of children to eventually turn to steroids
Boston, MA (PRWEB) March 9, 2006
Jeff Rutstein grew up idolizing athletes with the star stature of Barry Bonds, the seven-time National Baseball League's most valuable player, who broke Mark McGuire's single-season record with 73 home runs.
"As former steroid abuser, I know the effect that a 'pumped up' athlete has on an impressionable kid," says Rutstein, a Boston fitness instructor, author of the book "The Steroid Deceit" and the subject of interviews by a variety of media including The New York Times, CNN, The Washington Post, Reuters and others.
That effect was profound.
Rutstein nearly died trying to look and perform to the impossible standard set by numerous "bulked-up" sports heroes.
His addiction placed him at risk for a multitude of serious ills including heart disease, liver disease, cancerous tumors, aggressive behavior, depression, infertility, hair loss and high blood pressure, stunting of growth, wear and tear on tendons and ligaments -- and use of other illegal drugs.
Childhood awe was ripped away by adult disillusionment and despair.
This is why Rutstein is calling for Bonds's record, which is clouded by suspicion, to be rescinded, despite the San Francisco Giant's player's denials of performance-enhancing drug use. Rutstein feels this is especially imperative as Bonds prepares this coming season to pursue the records set by game greats, Babe Ruth and Hank Aaron.
Existing allegations of steroid abuse by Bonds are now being underscored by an article in the newest edition of Sports Illustrated alleging details of the slugger's doping program.
"It is imperative," says Rutstein, "for baseball's record books to remain true to the spirit of the game. Beyond this, its heroes -- heroes to so many young people -- should earn that title through nothing more than determination, grit and talent."
"Images of drug-buff athletes may encourage a new generation of children to eventually turn to steroids," says Rutstein. A similar impact has been seen among girls who later adopt the image of extremely thin actresses as their role model.
"Potential steroid users are seduced by the fake picture of health and vitality and virility," says Rutstein. "The picture doesn't show the strain on the arteries, the wear and tear on the heart and the psyche. It doesn't show the caskets."
Jeff Rutstein, author of The Steroid Deceit and a fitness instructor in Boston, is available for interviews, commentary and speaking engagements. For more information on the consequences of steroids and how to combat today's epidemic of steroid abuse, go to http://www.StopSteroidAbuse.com or call 800-374-9959
###