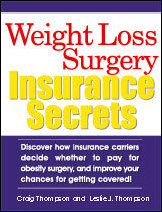 One of the most common questions I am asked is whether insurance or Medicare will pay for weight loss surgery
Dallas, TX (PRWEB) March 9, 2006 –-
Nearly 200,000 Americans suffering from morbid obesity will have weight loss surgery this year, but thousands more will have to forego the procedure because of financial constraints. That's because most people can only afford the $25,000 - $50,000 price tag for bariatric surgery if their insurance carrier foots the bill—and getting the insurance company to approve the procedure is where many people fail.
"One of the most common questions I am asked is whether insurance or Medicare will pay for weight loss surgery," says Craig Thompson, co-author of the new e-Book Weight Loss Surgery Insurance Secrets. "I wrote this book to help people who want and need weight loss surgery navigate the maze of insurance requirements and avoid having to pay thousands for the procedure out-of-pocket."
Thompson, a former sumo wrestler, had a Roux-en-Y gastric bypass in 1997 after tipping the scales at 400 pounds. Within a year's time, he lost nearly half his body weight, dropping from a 54 to a 34 waist size. Losing the weight gave him both the physical stamina and the courage to pursue his lifelong dream of becoming a big band singer, and he now has three set-ups of his 19-piece big band in Dallas, Tokyo and London. But, he almost didn't have the surgery because of all the red tape with his insurance carrier.
"It took me months to figure out how to get approved for weight loss surgery," Thompson says. "Most people don't realize that obesity alone won't qualify you for the procedure. Insurance companies have written guidelines that they use to determine whether or not a specific medical procedure is appropriate, and it's not easy to put together a request that will pass your carrier's review process."
In 2004, Thompson founded http://www.RenewedReflections.com, an online support and informational resource for people who are considering or have had weight loss surgery. He has done extensive research on insurance trends and policies related to bariatric surgery and released the new e-Book, Weight Loss Surgery Insurance Secrets, to help others obtain insurance approval for the life-saving treatment.
To learn more about how insurance providers determine whether to pay for bariatric surgery, visit http://www.weight-loss-surgery-insurance.com.
Craig Thompson, better known as "Big T," performs regularly with his 19-piece big band, Big T & The Bada-Bings. As one of the earliest to have Gastric Bypass Surgery, in 1997, Thompson now helps others at RenewedReflections.com.
###