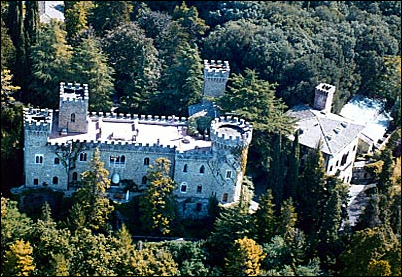 As I have watched my three sons learn new languages, develop sophisticated palates, and, through the adventures of our travels, become more confident in their steps, I felt an obligation to other parents to share our experience with family travel to Italy
Alpharetta, GA (PRWEB) March 14, 2006
Debra Levinson, expert on family travel to Italy and author of the self-published sensation "Italy's Best With Kids," is pleased to announce the launch of Levinson Travel, a European vacation planning service dedicated to ensuring luxurious family travel to Italy is educational, fun and hassle-free. Her deep knowledge of Italy combined with extensive experience traveling with her family means Levinson can offer a unique perspective to families looking to be Europe-bound.
Levinson established Levinson Travel following the release of "Italy's Best with Kids" in response to a strong and consistent demand for consulting help with European vacation planning. Levinson takes a personal interest in every trip planned, creating itineraries tailored specifically to client's desires, tastes and interests. Over a decade of Italian travel experience gives her an in-depth knowledge of Italy and the ability to design ideal itineraries for family travel to Italy. She has driven, skied, biked, swam, golfed, boated, shopped, eaten and slept her way through all twenty regions of Italy with her family. Their travels have taken them from the striking islands of Sicily and Sardinia to the peaks of the great Dolomites, Liguria's exquisite Cinque Terre to the green heartland of Umbria's mountain top villages, and along Apulia's coast of Bari. Debra and her family continue to traverse the Italian soil in quest of a selection of properties they feel embody an exceptional Italian travel experience that your entire family will enjoy.
"Levinson Travel is an outgrowth of demand for European vacation planning from the book," Levinson said. "Italy's Best With Kids" is a self-publishing phenomenon, transcending a humble beginning to end up a brisk seller in major book chain stores. The guidebook tapped in to a pent up demand from parents for guidance in family travel to Italy, including information about nice places to stay, what to do and how to get around, all with kids in tow. Even now that Torino has passed the Olympic flag to Vancouver, demand for Italian tourism continues to grow. Unfortunately, popular destinations often give rise to disappointing experiences. Levinson can help families toward only the best Italy has to offer.
Levinson challenges the premise that family travel to Italy means settling for substandard or undistinguished accommodation and sticking only to tacky, touristy places. This is untrue. She has identified first-rate properties with exceptional amenities, including romantic attractions for the parents. She also knows the way to amazing food, sightseeing, recreation, and sporting activities that will assure not a dull moment. Through Levinson's European vacation planning, families can have access to the very same enriching travel experience heretofore thought reserved for couples or singles only.
"I have personal experience from my own family travel to Italy with each property we deal with," Levinson said. "My husband, the boys and I have visited, slept, inspected, eaten at, and developed close relationships with owners and management of all of our choice properties. For this reason my clients experience VIP treatment...extras like early check ins & late check out, upgrades when available, wine, fruit baskets, and chocolates in their rooms upon arrival are some of the perks our families have come to expect."
A fine example of a Levinson Travel premier accommodation is Castello dell'Oscano (as seen above), an ancient noble castle, hidden among century-old trees, set in the surrounding luxuriant Umbrian hills just outside Perugia.
A Levinson Family property must meet the highest standards for family travel to Italy; it must maintain the country's romance for the parents, while providing an entertaining and enriching experience for the children. Whether luxurious family travel means skiing the Italian alps, touring Italy's artful cities, learning to make pasta in the kitchen of an authentic castle, or just relaxing on the comfortable beaches of Sardinia, Levinsons travel tips and savoir faire will help with European vacation planning.
Levinson is a late-comer to her European vacation planning avocation. She is trained as a doctor of chiropractic and holds degrees in sociology and women's studies. But momentum following from her popular guidebook steered her to this new venture. She approaches travel with a special zeal, hoping travel will help other families experience the same joy her family has seen.
"As I have watched my three sons learn new languages, develop sophisticated palates, and, through the adventures of our travels, become more confident in their steps, I felt an obligation to other parents to share our experience with family travel to Italy," Levinson said. "'Italy's Best with Kids' is a tribute to a country, a people, and even a culinary tradition that has given us so much pleasure and influenced so profoundly the strength of our family and the love within it. Levinson Travel is a way to extend that joy to others by offering help with European vacation planning."
Contact:
Levinson Travel
Debra Levinson
825 Malvern Hill
Alpharetta, Georgia 30022 USA
Phone: 770-851-0935
FAX: 770-754-7828
###