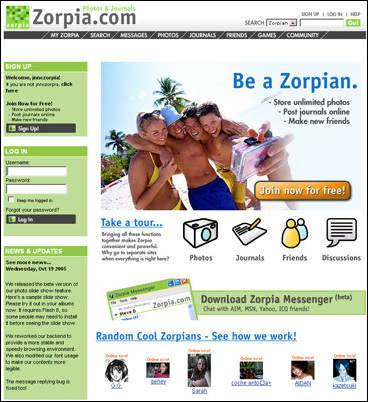 In the past 6 months, we experienced an upbeat financial growth due to increments from signup rate and CPM value in addition to new partnerships obtained with several advertisers. Currently our major advertisers are Google, Yahoo, AdBrite, Aptimus, Revenue Science, Revenue.net, and Zango
(PRWEB) March 13, 2006
Zorpia.com, a social networking website with a focus on photo sharing, has reported results for the last 6 months ending February 28, 2006. Remarkably financial revenue rose five-fold and user base increased by 75% for this period.
Financial Overview
"In the past 6 months, we experienced an upbeat financial growth due to increments from signup rate and CPM value in addition to new partnerships obtained with several advertisers. Currently our major advertisers are Google, Yahoo, AdBrite, Aptimus, Revenue Science, Revenue.net, and Zango" said Jeffrey Ng, CEO and founder of Zorpia Co. Ltd. "In the near future we will introduce a series of new features and promotional packages. With the great passion in our work, our company will gain tremendous momentum in producing even more excellent results."
-- Total revenue growth in February 2006 amounted to an astonishing 500% increase compared to revenue for August 2005. Zorpia achieved one of the highest financial growth rates among all the companies in the same industry.
-- Zorpia continued to be profitable even with the increasing staff over the past 6 months.
Business Review
"Our members are our biggest asset to the company. Now we have 1.8 million members worldwide. Among them, nearly 45% joined Zorpia within a six-month period, which began this past August and ended this past February. We are expecting a much higher membership growth in the coming future as we embark on our marketing campaign in the United States, China, and other countries." Ng said.
Ng also emphasizes that social networking is the core of Zorpia.com. Photo sharing, journals, forums, and skins are various types of important functions that facilitate the growth of traffic and membership.
-- Zorpia received an average of 2.5 million page views per day.
-- 9.5 million photos were stored in Zorpia.com. 20,000 photos were uploaded daily. The unlimited photo sharing system capacitated users to submit large size photos in a timely manner.
-- Zorpia's user base is most prominent from the United States, the United Kingdom, and Canada.
-- Majority of users fall within the age group of 15 to 25, where 18 is the peak age.
-- A new search engine stirred online friend-search frenzy in Zorpia. Soon after it was launched, overall page views increased by 30%, where the search page received a 50% increase in page views.
Business Outlook
As a result of this rapid growth, Zorpia is planning an exciting marketing campaign in addition to a systematic website feature enhancement.
"We will kick off many promotions in the near future" Ng said.
While the English version of the Zorpia website will continue to grow through the marketing campaign forthcoming in North America, the imminent Chinese version of the Zorpia website is expected to draw an unthinkable amount of new users from China to substantially increase the user base.
"We will soon introduce our group feature with an exceptional design which is expected to create a surge of new signups. Currently, we are building a complete make-over of the friend management system, a new photo tagging environment and a paid premium membership program. Our goal is to provide the best services in order to establish a long term relationship with our members." Ng said.
"We are looking for investors, who can bring significant input" Ng stated.
About Zorpia
Zorpia is a social networking website that provides a community setting for users to share unlimited photos, post journals or forum entries, and customize personal profiles and skins. It is similar to myspace, flickr, friendster, facebook, hi5, xanga, and tribe.net.
# # #