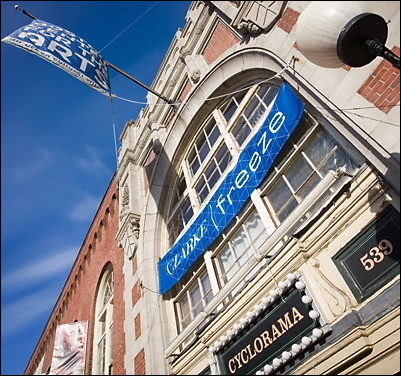 modern mix of materials that include high-gloss acrylics, exotic wood veneers with distinctive grain, such as Swiss pear wood and zebrano, along with glass and aluminum to create contrast.
Wellesley, MA (PRWEB) March 11, 2006
Over 500 Architects, designers and home industry insiders got a first-hand look at the coolest trends in luxury kitchens, colors and cuisine at Freeze, an all-day extravaganza sponsored by Clarke, the premiere information source for luxury kitchen appliances in New England.
Clarke, based in Milford, MA and Norwalk, CT, provided serious AIA credit seminars throughout the day and culminated the extravaganza with a high-style blowout party replete with a comedic ice sculpting performance.
Sub-Zero also introduced New England winners of its annual Kitchen Design Competition. They are Mari Woods, formerly with Dalia Kitchen Design and Mercedes Farrando at Arclinia, both in Boston and Christopher Peacock of Christopher Peacock Cabinetry, Greenwich, Connecticut.
The highpoint for appliance aficionados was the New England unveiling of the
Sub-Zero PRO 48, billed by the manufacturer as a monument to food preservation. With two doors and four drawers, the all-stainless steel Pro 48 is the paragon of professional style for the home kitchen.
Ming Tsai Appearance
Leading seminars on kitchen trends and technology were sponsors Sub- Zero/Wolf, Benjamin Moore Paints, Elle Décor, Metropolitan Home, and Poggenpohl International. Sponsors also included New England Home Magazine. In addition, Chef Ming Tsai, led a demonstration and luncheon talk highlighting his East-West culinary masterpieces at the Boston Center for the Arts Cyclorama Rotunda.
Clarke organized Freeze as part of its mission to assist the design community and appliance retailers with up-to-date information on every aspect of the kitchen -- from products and appliance technology to cuisine. Explained Tom Clarke, CEO, "Freeze brought together every element that goes into creating and enjoying a luxury kitchen -- the best appliance products, culinary masterpieces and leading architects, designers and trendsetters -- all in an atmosphere of creativity, sociability and fun."
Clarke also announced the creation of Clarke Customer Care, which has pledged to revolutionize the home appliance service industry with unparalleled convenience, capability and courtesy.
Kitchen Design Trends
Jo-Anne Pier, retail merchandising editor with Elle Décor and Metropolitan Home Magazines, and Rosemary Porto, senior designer with Poggenpohl in Boston presented "The Seduction of Reduction," a showcase of kitchen designs ideas. Porto noted. "The driving force today is integration - merging the kitchen with traditional living spaces to create an open and fully-functional hub for dining, entertaining, relaxing and working."
She also pointed out that thicker countertops are becoming prevalent and that glass is moving beyond cabinet doors to show up in satin glass countertops, backsplashes and clear glass pullout drawers.
Porto told attendees that the latest designs call for a, "modern mix of materials that include high-gloss acrylics, exotic wood veneers with distinctive grain, such as Swiss pear wood and zebrano, along with glass and aluminum to create contrast." Poggenpohl revealed plans to unveil the Kitchen Design for Men in 2007, now being created by Porsche Design.
Fran Mooney of co-sponsor Benjamin Moore, reviewed color trends for 2006 and 2007. Benjamin Moore, according to Mooney, based this year's palette on subtle skin tones—be they human or industrial skin—punctuated by vivid colors that denote cultural expression from around the world.
Clarke addresses the full spectrum of needs in the luxury segment of the kitchen industry. Says Clarke, " We showcase products in a live kitchen environment. We support retailers with training, and we support their sales effort by welcoming consumers and their designers to our showrooms. Visitors may experience -- and even cook on -- live appliances. With the establishment of Clarke Customer Care, we now offer the consumer luxury-level service and warranty work."
Tom Clarke founded the company in 1991 as a unique information and resource center. In addition to Sub-Zero and its Wolf range division, Clarke represents Asko water products, KWC fixtures and sinks, Best hoods and Scotsman. Freeze, was among numerous events Clarke organizes to reinforce its position as the premiere information source for luxury appliances. Other Clarke programs have been hosted with Canyon Ranch Spa/Resort, Sur La Table, Simon Pearce, Architectural Digest, Gourmet Magazine, PBS, Fine Cooking and The Boston Globe.
###