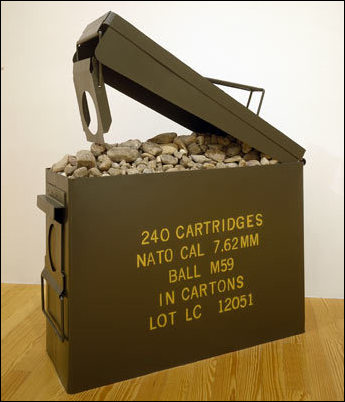 The Poetry of Arab Women: A Contemporary Anthology
New York, NY (PRWEB) March 11, 2006
Made in Palestine is the first museum quality exhibition devoted to the contemporary art of Palestine to be held in the United States. It is a survey of work spanning three generations of Palestinian artists who live in the West Bank, Gaza Strip, parts of Israel, Syria, Jordan, and the United States. For more information see http://www.prweb.com/releases/2006/2/prweb348579.htm
The exhibit runs in New York City from March 14th-April 22nd. Press conference with artists and Opening Reception takes place on March 16th. Additional artist panel on March 17th. This media advisory details press and opening events offering artist and curator availability for the media. All events take place at the Bridge Gallery, address below.
GALLERY INFORMATION
The Bridge Gallery
521 West 26th Street, 3rd Floor
(between 10th and 11th Aves)
New York, NY
Tel: 646-584-9098
EXHIBITION DATES
March 14th-April 22nd, 2006.
Open Tuesday to Saturday.
11.00am-6.00pm.
Admission free.
PRESS CONFERENCE/ARTISTS' PANEL
Thursday, March 16th, 2006.
3.00pm-6.00pm.
Participating artists: Mary Tuma, Rajie Cook, John Halaka, Zuhdi Al-Adawi, Samia Halaby, and Nathalie Handal. Exhibit curator James Harithas will be present. Bios follow below.
GALA OPENING RECEPTION
Thursday, March 16th, 2006.
6.00pm-9.00pm.
PUBLIC ARTISTS' PANEL/ADDITIONAL PRESS PANEL
Friday, March 17th, 2006.
7.00pm.
PUBLICITY CONTACT
Nigel Parry/nigelparry.net
646-812-0897
ADDITIONAL RESOURCES
Previous press release, artists' & curator/consultant bios, press clippings, essay extracts and high resolution images for print can be found at
http://www.prweb.com/releases/2006/2/prweb348579.htm
WEBSITE
BIOS OF ARTISTS APPEARING IN MEDIA AND PUBLIC PANELS
ZUHDI AL ADAWI taught himself to make art while imprisoned in Ashkelon prison. His expressionist drawings depict the psychological anguish and physical torture he endured there. Pictures such as the man trapped at the bottom of two steep ravine walls evoke feelings of confinement. Other images, such as the image of a baby emerging from the face of an older man, convey an abiding optimism for the future. Al Adawi now lives in a refugee camp in Damascus, Syria.
RAJIE COOK's Ammo Box is a pun on weaponry. The United States supplies Israel with the most sophisticated and powerful military equipment – Cobra helicopters, F-16 jet fighters, Merkava tanks, and intensive military training. These arms are primarily used against a civilian population that has little more than stones with which to defend themselves.
JOHN HALAKA's drawing, created with acrylic paints and a rubber stamped phrase, "Forgotten Survivors," memorializes the Diaspora of the Palestinian people. Their forced marches from their homes recall the Cherokee 'Trail of Tears,' a similar exodus that bordered on genocide. It also challenges the wholesale historical revisionism, which has sought to erase their history from memory. By maintaining the cultural anonymity of the figures, Halaka underscores the universality of political displacement and invites the viewer to project his or her own cultural history and responsibilities as oppressed, oppressor, or both, onto the image. Halaka lives in San Diego, CA.
SAMIA HALABY's abstract paintings let us see the world through her eyes, delighting in the motion of nature and reality. Carefully balanced in organization and color, they allude to the things she loves in the Palestinian landscape. Her large assemblage-like painting, Palestine from the Mediterranean to the Jordan River, is a map of Palestine in textures that correspond to the shores, the mountains, and the desert of Palestine. Halaby, a passionate artist and activist, has recently published a brilliant history of the liberation art of Palestine.
NATHALIE HANDAL is a poet, writer, playwright, director and producer. Her work has appeared in numerous magazines, journals, and anthologies and she is the author of The Neverfield and the editor of "The Poetry of Arab Women: A Contemporary Anthology," an Academy of American Poets bestseller and winner of the 2002 Pen Oakland/Josephine Miles Book Award. She teaches at Columbia University.
MARY TUMA's dresses make notice of the absence of the human form, and by so doing, provide a metaphor for the status of a people who are known more for the shadow they cast on current events than for their own personalities and culture. Tuma teaches art at the University of North Carolina at Charlotte.
# # #