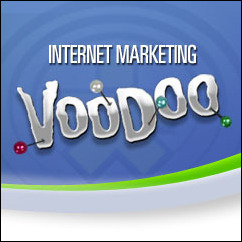 We are seeing incredible traffic
Orlando, FL (PRWEB) March 13, 2006
Four weeks after rising to the number one spot, Internet Marketing Voodoo still tops the iTunes' chart for Internet marketing podcasts. Traffic to the site and downloads of the podcasts have surged as marketers have shared the site with their colleagues all over the world.
"We are seeing incredible traffic," commented podcast host Ted Murphy. "We are having difficulty keeping up with the show requests." Internet Marketing Voodoo continues to serve as the number one podcast resource for executives and marketers to uncover strategies and the latest emerging trends within online marketing. With the first episode launching earlier this year in January, Internet Marketing Voodoo's subscriber base has grown exponentially, as the content continues to be syndicated on blogs, media outlets and marketing resource sites across the Web.
Murphy, the president and CEO of MindComet, has interviewed recognized industry leaders in Internet marketing such as show guests Avinash Kaushik, senior manager of web research and analytics at Intuit Inc., Shay Studley-Toland, communications director at Tyco Healthcare and Ginger Conlon, editor-in-chief at 1to1 Media. The guests have shared tips and advice on internal email marketing, customer relationship management, loyalty programs, web analytics, podcasting, blogging and brand terrorism. Future topics include paid search and organic search strategies and integrating podcasts into online promotions.
The Internet Marketing Voodoo podcast is part of MindComet's Voodoo network. The network consists of blogs and podcasts dedicated to issues facing today's marketers. The network covers topics including web analytics, search engine marketing, email marketing, consumer generated media and more. For more information or to subscribe to the podcast visit http://www.internetmarketingvoodoo.com.
About MindComet's Managed Podcast Services
MindComet assists clients in optimizing their customer relationships. Their podcast marketing services bring Fortune 1000 companies the ability to narrowcast their branding to a segmented market of listeners. They work cooperatively to develop a customer relationship strategy that strengthens the bond to both existing customers and prospects through leveraging emerging technologies and mediums such as podcasting. For more information on MindComet's services call 866.650.7919.
# # #