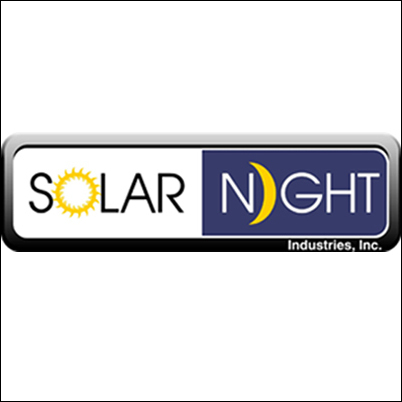 St. Louis, MO (PRWEB) March 10, 2006
Solar Night Industries™, Inc., http://www.SolarNightIndustries.com, (Other OTC: SLND.PK) announced today that the Company's common shares have begun trading under the Company's new ticker symbol 'SLND.PK'. The shares previously traded under the symbol 'TTNT.PK', following Solar Night's name change from Triton Technologies, Inc.
About Solar Night Industries, Inc.
Solar Night Industries, Inc., based in St. Louis, Missouri (USA), is a global manufacturer and distributor of innovative solar products. The company was founded by technology, manufacturing and sales executives with extensive industry experience and proven track records of success. The company has operations in St. Louis, Missouri and Sarasota, Florida, with affiliate offices in Mainland China. The company is developing products for consumer, business, and government markets. For more information, please visit http://www.solarnightindustries.com.
Safe Harbor Statement
This press release contains forward-looking statements which are made in reliance upon the "Safe Harbor" provisions of the Private Securities Litigation reform Act of 1995. Actual results could differ materially from the statements expressed or implied herein due to a variety of factors including, but not limited to: the development of Solar Night Industries' solar cell technology and solar solutions, ability to secure additional financing, the successful marketing and distribution of Solar Night Industries' products, market acceptance of Solar Night Industries' products and technology, competition and timing of projects and trends in the solar industry, as well as other factors. The forward looking statements contained herein are made only as of the date of this press release, and Solar Night Industries undertakes no obligation to publicly update such forward looking statements to reflect subsequent events or circumstances.
CONTACTS:
Solar Night Industries, Inc.
Jason Loyet, President
314.922.0154
http://www.SolarNightIndustries.com
# # #