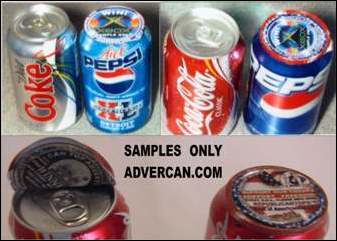 All who doubt this model today will be peeling off the proof tomorrow.
(PRWEB) March 13, 2006
A company named Advercan has fought diligently for years to develop a soda can top label that will ultimately win the multi-billion dollar cola wars, says Kenny Mac McClintock, founder and funding agent of the company.
Advercan was the first company in the world to distribute second party advertisements on beverage can top labels back in late 2004. Since then, the group has concentrated on developing a new high speed labeling system. They have been through dozens of label materials and heavy international systems research. These new "Soda Seals" will protect the packaging from germs and dirt while offering a media brokerage system that would off set many beverage Brand's costs. It's easy to realize a new advertising revenue stream to totally remove slotting fees, and syrup/soda costs. With this latest ultra thin plastic label, Advercan finally has the ultimate Beer, Energy Drink, and Cola War weapon.
The beverage distribution system is much like the postal system's zip code grid. It's well studied, consumer sensitive and very highly targeted ("Touch and Target-TNT"). So why isn't it turned into the next global media distribution system while addressing the public's concern with direct mouth packaging contact?
A soda can is the only unpackaged food or beverage product we put up to our lips—the heck with shaking hands, coughing in airplanes or schoolhouse lunchrooms. Many cans gather contaminants from the day they leave the truck, to the minute they bond with your lips. Most people feel more comfortable kissing a can top than they do their family members, and nobody really knows whose hands were on the can before the can-top-kiss. All of us have wiped off our cans, especially single serve energy drinks. Now we know it could be very profitable for the beverage companies to label their cans. So why don't they give it a whirl…win?
"My father and chief supporter is totally convinced this model will be the next big advertising avenue like the Internet, with a huge consumer benefit angle," McClintock says to those who question his can top media hygiene models about his "Peel to Reveal" apparatus. "All who doubt this model today will be peeling off the proof tomorrow."
Now that the war can be feasibly won for the first beverage/media/packaging company to act, only total commitment of a billion cans (one beverage line / three shifts) will decide the fate of which beverage will ultimately win. With over 250 billion cans per year consumed and increasing stock holder's equity at stake, this war will have the most winner count, or the most casualty count of any war ever fought in history. The USA alone consumes over 130 billion cans per year with only 300 million consumers. That's a historical war to win!
Team Advercan has contacted most all of the major media, packaging, and beverage companies with good response. The team is now seeking strong leadership by heads of Omnicom, Interpublic, Hakuhodo, Publicis media allies, or an aggressive beverage packaging group such as REXMY, BLL, CCE, AB, CSG, TAP, or PBG to launch this rocket and take it into IPO orbit.
It will cost a couple million dollars per bottling line to begin with a beverage co-packer here in the USA. Assuredly, the advertising revenues will exceed this type investment by a hundred times since each line can distribute almost a billion targeted can-top-ads per year.
A native Texan, Advercan's founder awaits the right "Cut through the bull" e-mail contact to take the reigns and ride.
Contact the company, request samples, and explore over 370 can top media concepts at http://www.ADVERCAN.com
Media Contact:
Kenny Mac McClintock
1-800-879-7050
# # #