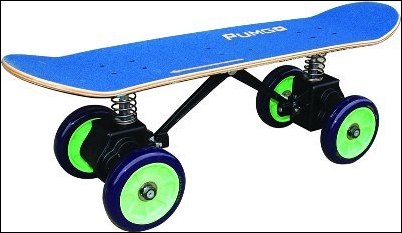 New York, NY (PRWEB) March 14, 2006
Land Surf Inc., a sporting good company, has decided to donate up to 200 PUMGOs (value of $30,000) to various summer camps around the nation to aid the excitement offered by camps and help kids stay in shape.
The name PUMGO originates from "pump-and-go." Like skateboards, PUMGOs have a deck and four wheels, but that is where the similarities end. How does PUMGO work? Its patented 4-Wheel-Drive and all-wheel steering system allows the rider to drive the vehicle forward with a simple pumping motion, similar to a see-saw. Just like riding a bicycle, riders can ride PUMGO forward without their feet touching ground. With no battery or motor, the rider powers and controls PUMGO. Using a PUMGO is the best way to workout with fun and the feeling of surfing on land.
According to fitness specialists, the PUMGO is all about the core. Just balancing alone on the PUMGO works the riders' core strength because they have to distribute weight from one foot to the other while staying relatively centered with their upper bodies, which means their abs have to fire every time to stabilize their torsos. Legs benefit the most from the PUMGO workout, but the PUMGO will also work gluts, quadriceps, hamstrings and calves.
PUMGO has caught the eye of many media sources including CBS News, Atlanta Journal Constitution, Time Magazine for Kids, Washington Post and Washington Times. Most recently, PUMGO has been featured in the Boy's Life magazine, the official youth magazine of the Boy Scouts of America and also be featured in the Sports Illustrated for Kids.
Children ages 7 up as well as adults can enjoy PUMGO, the sporting good that promotes active, athletic fun. Summer camps interested in receiving free PUMGOs can contact Land Surf Inc before June 1, 2006, for the detail of this offer. Learn more information at http://www.pumgo.com.
Contact:
Land Surf Inc.
120 Interstate North Pkwy SE
Suite 153
Atlanta, GA 30339
770-984-9025
770-984-9592 (fax)
# # #