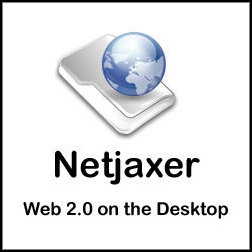 Grand Rapids, MI (PRWEB) March 21, 2006
LandMark Media, LLC is pleased to announce the release of NetJaxer. NetJaxer is a free and easy way to integrate Web 2.0 applications like Gmail, TadaList, Digg, Writely, Kiko, Meebo, financial sites, and other Ajax based web programs right into Windows. Users can create desktop, tray, and quick launch icons and use these applications with the NetJaxer custom browser.
For those unfamiliar with Web 2.0, it is a simple way for internet users to use computer applications directly on the world wide web that were once only available in software suites like Microsoft Office. A few of these Web 2.0 sites include: Writely which allows users to do word processing right on the web instead of having a word processing program installed on their computer, Meebo, a site that will let users login to a variety of intstant messenger platforms right from the web, iOutliner which lets users make to-do lists and project outlines, as well the popular Gmail, a web based email site that lets uers manage their email online instead of running a desktop mail program. NetJaxer lets users integrate these programs as well as many other Web 2.0 programs right into Windows so they can be easily accessed with a click of a mouse.
NetJaxer can be downloaded from:
A step-by-step how-to video can be viewed at:
http://www.netjaxer.com/demo/netjaxer.html
NetJaxer is a free program for use with Windows 98/ME/2000/XP.
You can listen to our audio interview by clicking on the Podcast options in box in the upper right hand corner of our press release.
For press inquiries, please contact Paul Jendrasiak at: 1.800.313.8786 or by email by clicking Email us Here at the upper right.
###