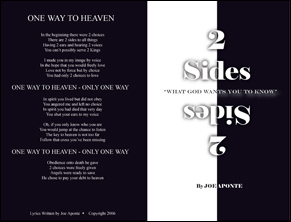 West Paterson, NJ (PRWEB) March 16, 2006
Joe Aponte has written the book called "2 Sides" so that readers would be able to hear what the living God has to say to the world today. It is a book that is gaining momentum within the people on a one to one basis within their communities, and is blessing those who have an ear for the Voice of God.
The book titled "2 Sides" is a small, but powerful book that will definitely increase the reader's awareness of the spiritual and physical realm they exist in. You can say it is a quantum leap of the spirit. It will open the reader's eyes to what is truly going on around them and within their government. United States is in a deep sleep and needs to have an awakening really fast. This book will awaken the readers to the spiritual and physical truth of their world.
The author of "2 Sides," Joe Aponte, is a humble, shy and friendly individual who for years has disobeyed the living God out of fear of being ridiculed by others. However, fear is not a godly thing and he must obey the living God without fear of criticism.
Finally, after many years of stubbornness, personal suffering and Godly persuasion; he is now writing what God wants all readers to know. In this book Christian and non-Christian readers will get to know who God is and how to achieve spiritual consciousness of God; learning how things operate both in the physical and spiritual realm. Additionally, it contains many answers to deep spiritual matters that readers are hungering for and need to know. It will definitely bring insight as to what is happening today around the world, and the condition of the national economy. God also has a message for all the nations of the world and all readers are going to want to read this.
This is an opportunity for readers to get a good look as to who God is, and how to truly communicate with Him. This book is being published by Joe Aponte and could be ordered by going to http://www.2sides.info. It has a purchase price of $9.95 plus shipping and handling.
"2 Sides" was copyrighted 2006 and is to published 3/2006. The book was registered in the Bowker's Books In Print Database. Readers can reference ISBN 0-9778220-0-1 when looking it up in their local book stores.
# # #