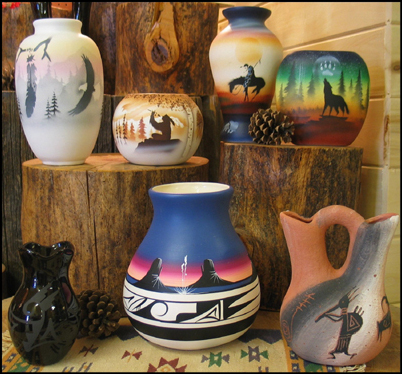 Gift shops love Cedar Mesa
(PRWEB) March 14, 2006
For over twenty years, southwestern art and pottery from the Four Corners area -- where Utah, Arizona, Colorado and New Mexico meet -- have been popular with Americans seeking an elegant southwestern décor to their homes. However, Native American art is also a favorite among European and Asian tourists who want to return home with authentic, handcrafted and hand-painted, beautiful works of the indigenous people of this land.
Increasingly, gift shops throughout the United States, are capitalizing on the continuous fascination with Native American art. One southwestern company which has worked extensively with gift shop owners to provide them with proven, consistent bestsellers is Cedar Mesa, one of the original companies to specialize in hand painted Native American pottery.
Cedar Mesa's appeal has been in mastering the balance between beauty and affordability, between traditional and ceremonial designs carefully handed down through successive generations and the uniqueness of each of the hand-painted pieces.
"Tourists in general, and foreign tourists in particular, have always been fascinated with the wild west and Native American products," says Fox. "Shop owners are often pleasantly surprised with the consistency of their Cedar Mesa sales, and that's because this pottery outlives the sudden trends which quickly fade away. Cedar Mesa is one of only two or three lines which I've ever sold which proves itself year after year after year."
According to Keith Fox, a top sales representative for Cedar Mesa for over twenty years, some gift shops have sectioned off parts of their stores to create provocative and profitable displays of Cedar Mesa's Native American pottery, each piece represented by a certificate of authenticity, guaranteeing both its uniqueness and its genuine Native American craftsmanship.
"Gift shops love Cedar Mesa," says Fox. "Part of the reason they've got such a good reputation is they're a virtually trouble free company. They pack and ship very well and their quality control is excellent."
"With so many lines of pottery, and so many choices of style and size within each line, a retailer may not know which will sell the best," says Richard Overkamp, another Cedar Mesa representative. "By paying close attention and observing which styles and sizes are selling the best, I make the recommendations which help them make a profit."
Cedar Mesa pottery also sells well in such places as furniture and interior design stores. The increasing popularity of the Internet for the marketing of art products has also opened doors for retailers that want to showcase best-sellers. Online stores can feature Cedar Mesa's Native American pottery and expect strong customer interest.
The popularity of southwestern and Native American art is not limited to gift shops in the southwestern states. Cedar Mesa's lines are sold throughout the country, as tourists everywhere want to connect to the Native American spirit.
"Authentic, traditional Native American pottery is something that tourists really want," says Fox. "Cedar Mesa's pottery is of such artistic quality and yet, so affordable, that all a gift shop has to do is provide vertical shelving where customers see it at eye-level."
For More Information Contact:
Joe Lyman
Cedar Mesa Pottery
Phone: 435-678-2241
Fax: 435-678-2906
333 South Main
Blanding, UT., 64511
Email: potteryboss @ cmpottery.net
###