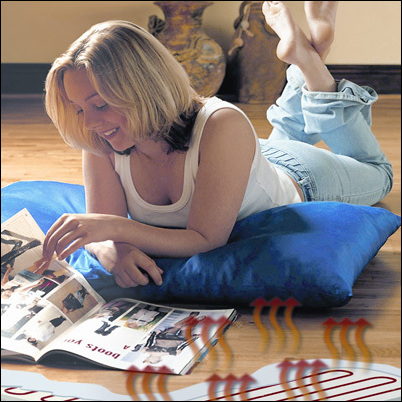 20 of the Year's Coolest Tools, Gizmos and Gadgets
Atlanta, GA (PRWEB) March 15, 2006 -
While hardwood floors are becoming increasingly popular, they feel uncomfortably cold underfoot when the temperatures drop. What if you could replace that unpleasant chill with the luxurious sensation of stepping on warm wooden floors - even on the coldest of days? Now, with woodBEwarmer™ consumers no longer have to sacrifice winter comfort to enjoy the many benefits of wooden floors.
Speedheat® - with their all new Generation4™ (G4) electric radiant floor heating - has just introduced another revolutionary radiant floor heating system that is easy to install and safe under floating wood and laminate flooring. woodBEwarmer™ uses gentle radiant heat that does not impact wood or cause thermal damage. With wood floors gaining popularity, Speedheat's new product is poised to offer American consumers the luxury and comfort they desire. To locate a distributor, consumers may call Speedheat at 1-888-WARM-FLOOR.
"To address the ever growing wood flooring market," says Pieter Jansens, Chairman of Speedheat International, "we worked with our engineers to perfect an electric radiant heating system that would effectively and efficiently warm floating wood and laminate floors without causing heat-related damage. We successfully offer similar products in Europe, and we are approved by Bruce Flooring in the United Kingdom for use under their bonded natural pine engineered wood floor. Additionally, Amtico Floors tested Speedheat systems for three months in their UK laboratory and approved our products for use under their simulated wood vinyl flooring. In addition, Speedheat has extensive experience in working with Amtico in South Africa, and we have been their recommended supplier of electric radiant floor heating for their engineered woods for years. We are eager to work with industry leaders in the U.S., and we are proud to now officially introduce woodBEwarmer™ to the American marketplace."
Since 1991, wood flooring has steadily been gaining favor as reported by NOFMA: The Wood Flooring Manufacturers Association. According to NOFMA, hardwood flooring shipments hit a new 40-year high last year. Executive Vice President Timm Locke attributes the "enduring popularity of wood floors" to many factors including their warmth and beauty, durability and decorating versatility. Locke also credits the strength of both the residential remodeling and new home construction markets with fueling this upward trend. Other benefits cited include wood being a "green" or environmentally friendly and renewable resource and that wood floors promote improved indoor air quality and often reduce the level allergens in the environment, which is certainly an added benefit for millions of American allergy sufferers.
Because Speedheat's patented Generation4™ heating element is optimally engineered to be "in touch" with floor finishes, it warms floors faster than any other systems and at lower, safer temperatures. Speedheat's G4 element improves comfort, protects sensitive flooring and slashes energy consumption. "Furthermore, only Speedheat is fully customized to meet the specific needs of each application," explains Jansens.
Interestingly, high-end features like heated floors are becoming increasingly popular with consumers as reported in a recent survey released by the American Institute of Architects (AIA). "With a growing emphasis on consumers wanting larger kitchens and bathrooms that feature even more luxury options, heated floors are indeed gaining popularity," says Peter Newman, President of Speedheat U.S. "Because Speedheat G4 systems can be installed in touch with virtually any flooring material, we are in a prime position to maximize this trend by offering consumers luxurious warmth in any room of their home."
Speedheat's woodBEwarmer™ heating systems also feature fully programmable thermostats. Because Speedheat systems warm from the ground up, they produce evenly heated rooms that are more comfortable at lower temperatures, allowing users to reduce thermostat settings; thus saving energy and lowering heating costs. Speedheat's G4 radiant heating products also help allergy sufferers by reducing the levels of dust, pollen, mold, and other environmental pests spread by conventional forced air heating systems making the home a healthier place to live.
Speedheat's feather thin heating element is less than 1/16" in diameter, and the warming panels consist of the looped element laminated between two layers of polyester. The full-surround ground screen is an effective EMR, EMI and RF shield, and GFCI protection provides absolute electrical safety. All Speedheat products have undergone rigorous testing, including complete submersion in water while energized. Speedheat's products are all UL-listed and National Electric Code (NEC) compliant.
"Speedheat's largest advantage though," states Jansens, "is our 100% commitment to quality and satisfaction. We produce, deliver and stand behind our products, and we are backed by our 20-year reputation as a world-leader in the industry."
About the Company:
Speedheat is the Generation4 electric radiant floor heating company with products designed to safely and efficiently warm directly under exotic stone, marble, granite, ceramic tile, floating wood, laminate, vinyl, carpeting and area rugs. Speedheat systems are an energy efficient alternative heat source for any room including the basement, sunroom, bath, kitchen, bedroom and living room.
As inventors of Generation4™ electric radiant heating, Speedheat has produced quality solutions since 1985. While relatively new to the U.S., Speedheat has offices in 10 countries and is currently heating more than 30 million square feet of space worldwide. Their United States headquarters are based in metro Atlanta (Woodstock), Georgia.
This Old House Magazine recently featured Speedheat in their "20 of the Year's Coolest Tools, Gizmos and Gadgets" list. Speedheat has also received publicity in do! magazine, Atlanta Home Improvement magazine, Atlanta's Points North magazine, HGTV's International Builder's Show 2004 program, FloorRadio, FloorDaily.net and the Ask Andrea™ nationally-syndicated home improvement radio show.
RugBuddy™ woodBEwarmer™ CarpetMate™ and TileWarm™ are all products of Speedheat International.
Distributor Opportunities Still Available:
Speedheat U.S. is still seeking additional distributors in America for woodBEwarmer™ and RugBuddy™. RugBuddy is the only UL-listed heating mat in the world, approved for use under area rugs. Like an electric blanket for the floor, RugBuddy is a zone heating solution that turns regular area rugs into invisible space heaters and is safe over any flooring material including carpet, hardwoods and tile. For more information, please contact Peter Newman at 1-888-WARM-FLOOR or visit http://www.speedheat.us.
# # #