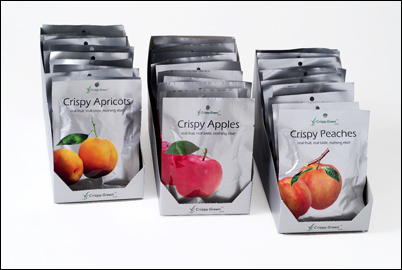 The new additions to our Crispy Fruit line of healthy snacks further reinforces Crispy Green's commitment to providing the most delicious and wholesome snacks to consumers using high-quality ingredients that are carefully chosen for taste and nutritional value
West Orange, NJ (PRWEB) March 15, 2006 -–
Crispy Green Inc., the maker of Crispy Green® high-quality freeze-dried fruits snacks today announced a preview of the newest additions to its Crispy Fruit product line at Natural Products Expo West. The new products that will be previewed include Crispy Mangoes, Crispy Pears and Crispy Pineapples. All products will be available for sampling at the Crispy Green booth number 899 at the Natural Products Expo West being held March 24 – 26 in Anaheim, California.
Crispy Green Crispy Fruit products are made of 100% freeze-dried fruit with no additives or preservatives. Crispy Fruit is available in convenient single-serving packages and are excellent snacks for all occasions. Each serving is only 40 calories or less and they are ideal for consumers who are seeking healthy alternatives to traditional snack foods.
Real Fruit, Real Taste and Nothing Else
"The new additions to our Crispy Fruit line of healthy snacks further reinforces Crispy Green's commitment to providing the most delicious and wholesome snacks to consumers using high-quality ingredients that are carefully chosen for taste and nutritional value," said Angela Liu, President and Founder of Crispy Green. "Customer feedback plays an important role in our product selection. Expo West will give us a great opportunity to preview our new product candidates."
Crispy Green launched its first three Crispy Fruit products – Crispy Apples, Crispy Apricots and Crispy Peaches in September 2005. The product is like a breath of fresh air for the snack food market - and The Trenton Times called it "One of the most wholesome new snacks to come out of New Jersey during the past few years." Crispy Green has quickly won fans among health and quality-conscious consumers.
You Are What You Eat
Most Americans do not consume enough fruit and vegetables recommended by the USDA Food Guide Pyramid. Crispy Green Crispy Fruit offers consumers an excellent way to increase their fruit intake while having the fun of snacking. Liu acknowledges, "Most of us can't go through a day without snacking. Many see snacking as a 'guilty-pleasure' and now we have a mouth-watering product that takes the 'guilt' out of snacking while keeping the taste-buds satisfied."
Crispy Green products are available at supermarkets, natural and health food stores and other fine food stores in Connecticut, Delaware, Florida, Kentucky, Maryland, New Jersey, New York, Ohio, Pennsylvania, Michigan, Missouri and Washington, D.C. A complete list of retailers is available at http://crispygreen.com/storelocator/main.html. Please send us an email at info@crispygreen.com if you would like to add your favorite retailer(s) to our distribution list. Crispy Green can also be purchased online at http://crispygreen.com/orderform.html.
About Crispy Green
Crispy Green Inc.(http://www.crispygreen.com) is the maker of Crispy Fruit freeze-dried fruit snacks sold under the brand Crispy Green® and a leader in this category of products. The company was founded in August 2004 with a core mission to provide delicious, healthy and wholesome snacks using the best natural ingredients with no artificial flavor enhancement.
The Crispy Fruit line of snacks are made of real fruit, real taste, and nothing else!™ A sophisticated freeze-drying process removes the water from fresh, sweet fruit, leaving behind the fruit's true essence in a light and crispy texture that's prefect for snacking. Crispy Green Crispy Fruit are a delicious, convenient way to add more fruit to your daily diet.
In the 2005, Crispy Green introduced Crispy Apples, Crispy Apricots and Crispy Peaches in the United States. It plans to add 2-3 new items to its product line each year for the next three years along with its rapidly growing distribution footprint.
# # #