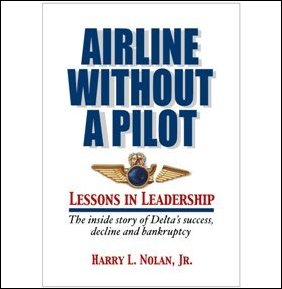 A Must Read! Unique leadership perspective with practical solutions for any business to build on its strengths
Atlanta, Georgia (PRWEB) March 15, 2006 —
Delta's CEOs and Board are to blame for Delta's bankruptcy – not pilot salaries, fuel costs or low-fare competition. "Airline Without A Pilot – Lessons in Leadership" - written by Harry L. Nolan, Jr., successful strategy and leadership consultant - documents how management led the company into bankruptcy. It goes further to give specific recommendations on how Delta can emerge from bankruptcy successfully.
To answer the often-asked question, "What happened to Delta?" the book examines the strategies and decisions of each of Delta's 7 CEOs and Boards from its beginning in 1929. It then highlights the decisions that built a highly profitable company for decades and those that brought it to financial ruin. Universal leadership lessons of value to any manager are drawn from Delta's record.
A review in Bookwire says the book is "at its core…a story of human drama and shocking corporate malfeasance." It further says, "Nolan's writing is refreshingly candid and unrestrained."
Author Nolan says he wrote the book because "This is a human and business story that demanded to be told. My no-holds-barred approach was required to do the story justice." The book is the result of his unique combination of strategic ability; leadership expertise; writing skill; and access to dozens of fellow Delta insiders (his wife worked there for 26 years). As part of writing the book, he interviewed in-depth 59 members of the "Delta family," many of whom provided never-before-published information.
The board of the Delta Air Transport Heritage Museum has entered a copy of "Airline Without A Pilot" into the Delta archives, housed at the museum.
The book's sales rank on amazon.com has been consistently in the top 1% of the 4 million books available from the bookseller. Ingram, the nation's largest book distributor, as well as Bookazine and The News Group distribute it. In addition to wide availability through major U.S. book retailers like Barnes & Noble, it is also distributed in Canada, UK, Germany, France and Japan.
Response from initial readers of the book has been very favorable. For example, excerpts from Customer Reviews on amazon.com include:
"The best business book I have read…also one of the best human interest stories"
"Peter Drucker type writing style. – easy to read, valuable information with key management points expressed succinctly"
"I had to get up in the middle of the night to finish this book! An engaging, but easy read for anyone"
"A Must Read! Unique leadership perspective with practical solutions for any business to build on its strengths"
"Should be required reading of every MBA student in America"
For additional information about "Airline Without A Pilot" (©2005 Harry L. Nolan, Jr.) or the author contact Sheldon Roose or visit http://www.targetmarkbooks.com.
About Harry L. Nolan, Jr.:
Nolan is the founder and President of Management Advisory Services, Inc., a successful strategy and leadership firm based in Atlanta since 1982. A complete bio of the author is on the web site.
Contact:
Sheldon Roose
Targetmark Books
404-705-9093
http://www.targetmarkbooks.com
###