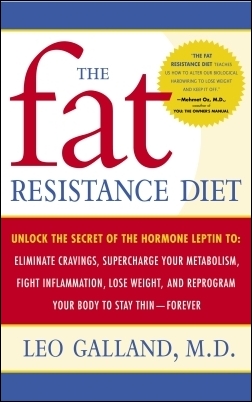 New York (PRWEB) March 15, 2006
The Fat Resistance Diet™, a new diet plan created by Dr. Leo Galland and his son Jonathan Galland, offers five simple steps to supercharge metabolism. Their weight loss program holds the key to speeding up body metabolism by enjoying the best recipes from around the world.
Dr. Leo Galland, a prominent New York internist who is internationally recognized for his scientific work in nutrition, created the weight loss program. Using Dr. Galland's nutritional guidelines Jonathan Galland created an exciting diet plan with recipes and flavors inspired by his time living and studying in Europe and in Asia. He studied Italian in Florence and studied Japanese at a university in Japan. This enabled him to create recipes that use the best all-natural ingredients for flavor and their amazing health benefits.
Following five easy principles from The Fat Resistance Diet™ it's possible to have a supercharged metabolism throughout the day. While it's well known that exercise burns calories, regular exercise also stimulates the activity of fat-burning enzymes. Leptin, a hormone, also stimulates these enzymes, which can increase metabolic rate even when not exercising. Since people burn up to two-thirds of calories used each day at resting metabolic rate, boosting resting metabolism is key to sustained weight loss.
The Fat Resistance Diet™ presents a weight loss program that makes leptin work, stimulating metabolism to burn more calories throughout the day.
Boost metabolism in five easy steps from the diet plan:
Maximize Flavor and Nutrition: Fat resistance superfoods have the most flavor and nutritional value for the calories consumed and form a key part of the diet plan. These foods are rich in one or more of the dietary elements that help metabolism, including vitamins, minerals, phytonutrients, fiber, and Omega-3 fatty acids. Abundant superfoods such as blueberries, tomatoes, extra-virgin olive oil and fresh herbs make eating healthy a pleasure. Please see our website http://www.fatresistancediet.com for the complete list of fat resistance superfoods that help boost metabolism.
Use Healthy Omega-3 Oils: Omega-3 Essential Fatty Acids are essential to the healthy functioning of body and brain. Omega-3s help heal inflammation, making leptin work properly and increasing metabolism. These healthy fats contribute to a youthful appearance making skin, hair and nails healthy. Sources of Omega-3s include ground flax seed, walnuts, beans, as well as fish, especially salmon or tuna.
Enjoy 9 or 10 Servings of Fruit and Vegetables Each Day: A successful weight loss program finds delicious ways to include fruits and vegetables in every meal. Examples are in the recipe section of The Fat Resistance Diet™ and on the website at http://www.fatresistancediet.com. Choose fruits and vegetables with deep colors and intense flavors that reflect their high content of anti-inflammatory phytonutrients, like carotenoids and flavonoids. The deepest red and blue flavonoids found in the jewel-like colors of blueberries, cherries, and pomegranate boost metabolism by helping leptin work properly.
Skip Artificial Sweeteners: The use of artificial flavors and sweeteners undermines an effective weight loss program. This diet plan uses potent anti-inflammatory phytonutrients found in herbs, spices and naturally sweet fruits. Studies show that artificial sweeteners interfere with weight loss by interfering with the body's ability to regulate the intake of calories. So steer clear of these sugar substitutes and enjoy a diet plan that uses fruit, fruit juice and fruit concentrates for flavor and nutrition.
Indulge in Healthy Snacks and Desserts: Snacks satisfy hunger, and desserts add fun and satisfaction to a diet plan. A good weight loss program encourages indulgence — but in healthy choices only. Enjoy delicious snacks such as crunchy walnuts or almonds, and dessert treats made from fruit and yogurt.
The Fat Resistance Diet™ is a proven weight loss program that comes with 100 delicious recipes that are easy to prepare and six weeks of meal plans that guide readers through each day. Free recipes and a 3-day diet plan may be found at http://www.fatresistancediet.com. Available online at Amazon.com, BN.com and at bookstores nationwide.
The Fat Resistance Diet™: Unlock the Secret of the Hormone Leptin to Eliminate Cravings, Supercharge Your Metabolism, Fight Inflammation, Lose Weight and Reprogram Your Body to Stay Thin – Forever.
By Leo Galland, MD with recipes by Jonathan Galland
Broadway Books, a Random House Imprint
January 2006
ISBN 0-7679-2052-X
368 pages,
Hardcover, $23.95
9.4 x 6.6 x 1.1 inches
Interview Contact:
Laura Pillar
(212) 782-9793
###