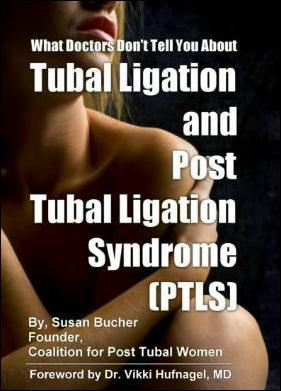 What Doctors Don't Tell You About Tubal Ligation and Post Tubal Ligation Syndrome (PTLS)
Chicago, IL (PRWEB) March 18, 2006
Tubal Ligation (TL), sometimes called tubal sterilization or "tying the tubes", is a surgical procedure in which a physician seals shut a woman's fallopian tubes for the purpose of birth control using coagulation (burning the fallopian tubes), or by using a devise such as a clip or a ring. It's estimated that more than a million tubal ligations will be performed this year. A new book titled "What Doctors Don't Tell You About Tubal Ligation and Post Tubal Ligation Syndrome (PTLS)" exposes that women are not being properly informed about the risks of tubal ligation, explains what post tubal ligation syndrome is, and details the need for informed consent laws.
The book, authored by the founder of the Coalition for Post Tubal Ligation Women, Susan Bucher, points to studies that show as a direct result of their sterilizations more than 15% of women experience excessive bleeding that required curettage procedures or complete hysterectomies. Other studies show a menopause connection due to blood supply being affected to the ovaries causing anovulation (ovaries failing to normally function and to ovulate) in more than 30% of women.
Explains Bucher, "The aim of the book is to educate women pre and post tubal ligation and the public as a whole." The text outlines the history of tubal ligation, the symptoms of post tubal syndrome, how women are diagnosed with PTLS, and proposed actions that women can take to advocate for their health and rights. The book includes copies of letters that the Coalition has received and a proposed informed consent law.
Bucher herself suffered untold side effects of her 1995 tubal ligation. She created the Coalition for Post Tubal Women to inform women of the risks of tubal ligation and to network with women to work towards creating an informed consent law. Bucher wrote "What Doctors Don't Tell You About Tubal Ligation and Post Tubal Ligation Syndrome (PTLS)" to aid in the Coalitions "Campaign to Inform". The book retails for $19.95 and is available for purchase at http://www.Amazon.com, http://www.barnesandnoble.com, and other popular book stores. For fastest shipping order direct from the publisher, http://www.lulu.com/Bucher.
###