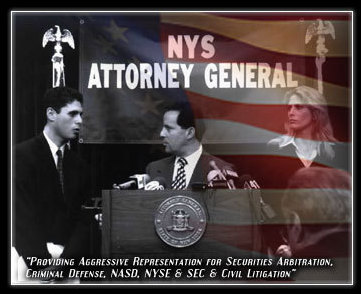 New York, NY (PRWEB) March 17, 2006
The Law Firm of Stuart D. Meissner, LLC has announced a new website that provides aggressive representation for securities arbitration, criminal defense & civil litigation.
Stuart D. Meissner is a litigator who earned his expertise under Robert Morgenthau during his time at the Manhattan District Attorney's Office (Trial Division). To get his clients results, Attorney Meissner also uses the experience he gained working with New York State Attorney General Eliot Spitzer in the Securities Investor Protection and Financial Crimes Bureaus. Stuart Meissner is a published author on the subject of Securities Fraud and Securities in the Electronic Age and has yet to lose an in-person securities arbitration hearing.
The Law Firm of Stuart D. Meissner, LLC, one of New York's leading law firms representing individual investors and individual brokerage house employees in matters related to employment, whistleblower claims, discrimination and securities regulations along with assisting individuals with various criminal violations, is introducing their new website.
This new website will help clients obtain answers on several of the most pertinent questions ranging from the basics of what securities are and what types of securities arbitrations may be filed. Information will also be available regarding unauthorized trading, churning, unsuitable investments, and the unsuitability of broker recommendations. The site will also discuss other examples of corporate misconduct; embezzlement, fraud, market manipulation and insider trading. In addition, clients will be able to obtain information regarding criminal defense on an array of first offense crimes including "white collar" crimes.
Constantly in the public eye because of his high profile matters around the Country as well as New York City, his cases have received attention by both print and television media alike. At this site, clients will be able to look up Attorney Meissner's exceptional record and media coverage. The website (http://www.smeissner.com) will also allow clients to research Attorney Meissner's television appearances, and view his published work.
Stuart Meissner, educated at the New York University School of Law and Hofstra Law School has experience spanning close to two decades and has appeared before the Securities and Exchange Commission (SEC), the New York Stock Exchange (NYSE), National Association of Securities Dealers (NASD), Commodity Trading Futures Commission, and local, state, and federal courts, the firm of Stuart D. Meissner can provide an experienced lawyer who carefully focuses on each case he chooses to accept in depth, resulting in his unique standing record of never having lost any in-person securities arbitration to date contradicting all forum statistics. Such matters ranged from conflicted research reports, unsuitable investment recommendations such as "tech wreck", the mismanagement of employee stock options and the failure to "hedge" by brokerage houses. If you believe Mr. Meissner and his broad experience can assist you, call the Law Firm of Stuart D. Meissner, LLC at (212) 764-3100 or 866-764-3100 nationwide immediately.
###