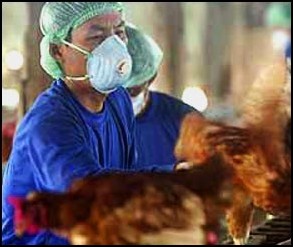 We have not seen an acceptable government response… We only have the ability to handle tragedies with good leadership.
Bethesda, MD (PRWEB) March 21, 2006
Recently, the International Association of Medicinal Compliance (IAMC) was in attendance at the Business Planning for Pandemic Summit, a national summit with a participation of over 250 people representing 195 organizations and 40 states. Hosted by the Center for Infectious Disease Research and Planning (CIDRAP) at the University of Minnesota, the Summit provided an opportunity for companies from industries in all sectors to come together and discuss the threat of an avian flu pandemic. Attendees heard presentations that addressed legal, healthcare, infrastructure, human resource, transportation and government support issues that affect companies in all industries. Across the two-day meeting, participants were given the chance to discuss specific industry needs and begin plans for continuity during an influenza pandemic. Alarmingly, 53% of participants feel the government is not well-prepared. As such, 76% say that social unrest and disruption will occur if a pandemic does occur.
In the event of a pandemic, it will be imperative to public health and order to develop effective and timely influenza plans. As the nation learned in the case of 9/11 and Hurricane Katrina, the government, on both state and federal levels needs to be prepared for a worst-case scenario situation, or else it will inevitably be unprepared. The Summit was designed to enable business leaders, government officials, business-related organization officials and media to identify their roles and responsibilities in defining and executing a preparedness plan. In doing so, these leaders focused on critical risk assessment and mitigation, public policy, legal, supply chain and human resource planning for business continuity during a pandemic. Featured speakers included Michael Leavitt, the US Secretary of Health and Human Services, Michael Osterholm, the Director of CIDRAP,Ted Koppel, former anchor and managing editor of Nightline and ABC News and Tommy Thompson, the former US Secretary of Health and Human Services.
Surprisingly, most of these participants, who are heavily associated with government functions, seemed disheartened by and weary of the government's avian flu preparedness. According to Arne Carlson, the former governor of Minnesota, "We have not seen an acceptable government response… We only have the ability to handle tragedies with good leadership." He goes on to add, "The leadership needs to get out in front and say, 'Here's what affects us. Here's how much it costs'." Similarly, Osterholm worries, "SARS happened in the speed of hours/days and that was a smaller scale than this. This could happen overnight."
73% of participants felt that government intervention would have a major impact on their business. Accordingly, 67% felt that developing relationships with state and local officials at this time would be essential to offsetting the detriment that a pandemic could cause. However, only 15% of respondents and their organizations had actually contacted the government on the issue surrounding a national pandemic. This signals that not only the government, but also organizations and citizens need to actively engage in defining and executing a pandemic preparedness plan. As Carlson said, "It'd be wonderful if everyone could go home after this conference and write a letter to both the President and then the governor of their state, asking them for these answers."
The IAMC (http://www.takeyourmedicine.org) is currently partnering with FLAVORx, Inc to provide actionable and feasible solutions to encourage and ensure that Americans take their medicine properly. By offering a scientifically tested and specifically developed medicinal flavoring to combat the bitter taste of antiviral drugs such as Tamiflu®, children and adults alike will be able to swallow liquid medications without struggle. Studies show that children are highly susceptible to infection, with about 45% of school-age children catching influenza during an epidemic. Children then, play a significant role in viral transmission and spread of infection. For an extremely minimal cost, government officials will be able to stockpile flavorings to guarantee near 100% medicinal compliance, thereby preventing the emergence of resistant flu strains, persistent symptoms, harmful side effects, and even mortality as a result of taking medication improperly.
To see how your opinions match up and view a sampling of the Summit's most pressing questions and concerns, please go to http://www.surveymonkey.com/s.asp?u=530021916553. For more information on the International Association of Medicinal Compliance and its efforts to effectively manage a potential avian flu pandemic, please contact Gunjan Koul at 800.884.5771, ext 230.
# # #