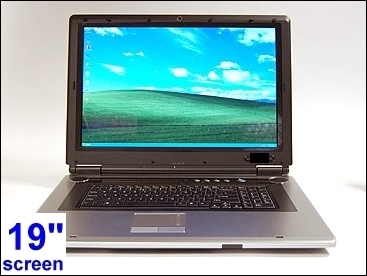 keep pace with the growth curve of demand for our products
Cranford, NJ (PRWEB) March 17, 2006
Dubbed as the "Biggest Screen Mobil Gaming Computer in the World" and the "Fastest Graphics in a Laptop on Earth", CompAmerica (http://www.compamerica.com) has announced the TigerShark Tx-5900 (http://www.compamerica.com/TigerShark).
The new series of TigerSharks sport an advanced, ultra fast response, vibrantly bright 19 inch diagonal LCD Screen. The new 19 inch diagonal "Super LCD" is integrated into a mobil laptop cabinet that is from 1 to 1.8 inches slim from bow to stern. It weighs in slightly less than the ORCA FX-2 series. Inside this amazingly designed cabinet are two nVidia 7800 GTX 256MB Extreme Video Adapters, each with 256MB, for a total of 512MB of Graphic Memory and 8 GPUs. The technology that links them together into a single Graphics Processor, is called "SLI" (Scalable Link Interface). The two Adapters are coupled together like two workhorses, to produce graphics performance simply unavailable from a single Video Adapter.
Backed by AMD's newest 64-Bit Turion ML-44 (and others) from the newest lower voltage consumption breed of AMD 64 processors, the system strikes out to achieve new heights of performance for Gamers, Molecular Modelers and even Video Developers.
The system supports Windows XP (and Windows Vista) exclusively, says the manufacturer, CompAmerica. However local buyers shopping the new product have said that CompAmerica is privately investing in SLI support for Linux and Unix operating systems for those who are running applications in that operating system arena.
"We have had a lot of speculators place everything from phony sales ads in our business name for products like this with the wrong parts in it, trying to upset us, to resellers who upon grabbing a digital photo of this model, started hyping it up in the past week. But the fact is, this is the very first 'Dual Graphics Adapter Operating as One' Laptop in the world. It is also the very first laptop with a full 19 inch LCD display. In fact we have provision to include an even larger screen. Someone commented to me that the TigerShark has been released 'to eat your competitors alive' just when our competitors mistakenly thought it was safe to go back in the water...", stated the company president, Dr. Jack A. Shulman.
The New TigerShark model, like its predecessors, is offered with wrap around Limited Warranty Repair from 1 to 3 years. The TigerShark series is considered the "absolute top of the line, fully mobil design" from CompAmerica since the middle 1990's, versus the ORCA series which holds the high ground on desktop design laptops.
CompAmerica has also hinted at that it will be immanently offering some new, very low cost, onsite service options to enhance its customer service position. These would include: 4-hour Response Time Comprehensive On Site Service throughout the US and North and South America, Europe, Asia and the Pacific; Enhanced Next Business Day Service in the same areas; Enhanced Global 24x7 Technical Support Options (dubbed: "CompAmerica Never Sleeps!") and even Carry In Service Options throughout the world for all of its products starting some time in the coming few weeks. A company spokesperson indicated that CompAmerica was finding demand for its products were widening throughout the USA and the World, and as a result it has increased its technical support provisioning capabilities so as to "keep pace with the growth curve of demand for our products".
CompAmerica, an industry leader in new and innovative products, can be reached by calling 908-931-1200 or Toll Free at 888-275-2771. It is located on the Internet at http://www.compamerica.com .
# # #