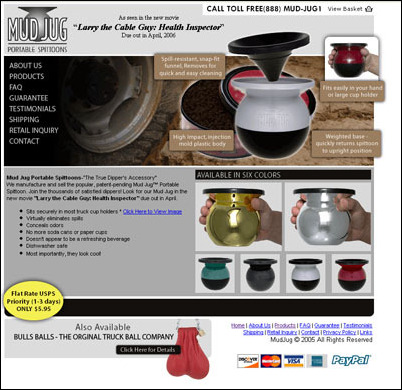 We want to have a Mud Jug in every dipper's hand
Rancho Cucamonga, CA (PRWEB) March 20, 2006
Kodiak, Copenhagen snuff, Skoal chewing tobacco…whatever the brand, smokeless tobacco users won't settle for anything less from their chew, and they shouldn't settle for anything less from their spitter, either! A leaky, napkin-lined paper cup is not only messy—it's downright uncool. And forget about trying to spit into an empty soda bottle! It requires a degree of skill and accuracy few dippers are blessed with. Fortunately, there is an answer: the Mud Jug Portable Spittoon. Developed by owner and veteran dipper Jeff Welch, this patent-pending product answers a specific need in the fast-growing, $2-billion-per-year smokeless tobacco industry. In fact, smokeless tobacco is not only the fastest growing segment, but also the only growing segment in the tobacco industry.
This information is not news to Welch. "We want to have a Mud Jug in every dipper's hand," he said. "We find that once a dipper gives it a try, not only do the people around them appreciate it, but the actual user wonders how they ever lived without it." Presumably, thousands of fans of Skoal chewing tobacco, Copenhagen snuff and blue-collar comedy will watch upcoming Larry the Cable Guy: Health Inspector and wonder the same thing!
"My goal in creating the Mud Jug was to make a high-quality, spill-resistant spittoon that was dishwasher-safe and would last for years," Welch said. Dozens of pleased-as-punch customer testimonials indicate that he's met his goal. Made of high impact injection molding plastic, the Mud Jug boasts a weighted base and easily removable, snap-fit funnel lid. Its ergonomic design fits securely in your hand or in most truck cup holders, and its innovative shape conceals odors and virtually eliminates spills. Available in a broad array of colors and finishes, there's a Mud Jug to suit every fashion-forward Copenhagen snuff aficionado and the most discriminating Skoal chewing tobacco devotee. Best of all, it just plain looks cool and in no way resembles a refreshing beverage.
So, what about the ladies? Welch is keenly aware of the importance of feminine approval in his market: "Growing up in Oregon I was surrounded by many smokeless tobacco users with their 'spit cups' always lying around the house. My mom spent half her day picking up half-filled spit cups and cleaning carpet stains," Welch said. "This is when I knew there was a demand for my product. It's not surprising over half of our orders come from women."
About MudJug.com:
Founded by owner and innovator Jeff Welch, MudJug.com provides unique spitting solutions with its patent-pending Mud Jug Portable Spittoon. Welch grew up in rural Oregon and has chewed tobacco for over 15 years.
# # #