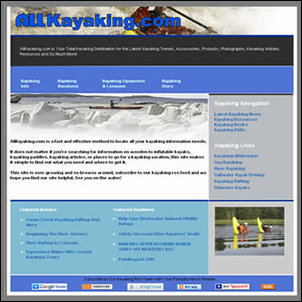 www.allkyaking.com is a place to find everything kayakers need to know about kayaking and not be overwhelmed with advertisements.
Gaylord, MI (PRWEB) March 21, 2006
Interest in the outdoor activity of kayaking and taking a kayaking vacation is growing by leaps and bounds. More and more people are realizing the benefits of kayaking such as:
Weight loss
Stress reduction
Muscle toning
Kayaking however is not an easy sport to just jump into, kayaking equipment can be costly and learning to kayak can be very difficult. With new technologies however, there are now inflatable kayaks that allow you to have high-performance (for paddlers who want the maneuverability and speed of a hard shell kayak) with stability and safety. These safer inflatable kayaks also offer a price advantage as well.
With any outdoor water sport, there are real dangers. Recently there was news of a 55-year-old man who was found dead floating in the waters of Monterey Bay, most likely succumbing to nature's elements while kayaking in high surfs. Not long before that there was also news of a Virginia man who died after getting pinned under one of the area falls when his river kayak flipped.
These dangers are very real but they can be prevented by taking kayaking safety very serious, getting the proper equipment and planning before you go on your kayaking vacation.
At AllKayaking.com we offer kayakers a place to get started on the right foot. We have dozens of articles on purchasing the right equipment, planning a perfect kayaking vacation and most important of all, how to be safe while kayaking.
"http://www.allkyaking.com is a place to find everything kayakers need to know about kayaking and not be overwhelmed with advertisements." --- allkayaking.com
For more information on planning a perfect kayaking vacation and where to get proper kayaking equipment, go to http://www.allkayaking.com
###