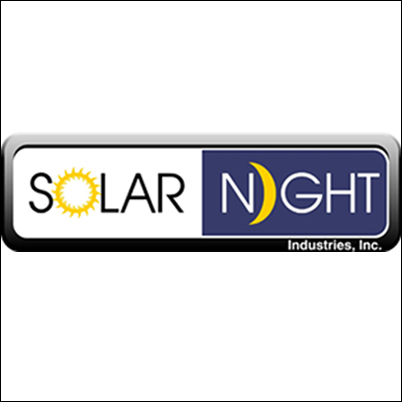 Solar Night Industries is dedicated to a sustainable environmental development strategy.
Saint Louis, MO (PRWEB) March 20, 2006 -
Solar Night Industries, Inc (OTC Pink Sheets: SLND.PK - News), http://www.SolarNightIndustries.com is a solar solutions company whose mission is to acquire, develop, and distribute solar products for the consumer, commercial, and governmental markets. With marketing, distribution, and technical staff based in the United States, a production facility in China, and sourcing of product in Europe, Israel and the Middle East, Solar Night Industries is bringing innovative solar and renewable energy products and technologies to global markets.
"Solar Night Industries Inc. welcomes President George Bush's recent State of the Union challenge to the alternative energy industry and his positive budget proposals for increased solar development. SNI is ready to take up the challenge and help America reduce its dependence upon fossil fuels through the greater deployment of solar technology," stated Jason Loyet, president of SNI. "Solar Night Industries is dedicated to a sustainable environmental development strategy."
Since 80% of the world solar market is tied to the energy grid, which is driven by government incentives and tax breaks, figuring out how to satisfy the various needs of municipal, state, and federal government agencies will be a priority for SNI. Over three-quarters of the governmental market is now centered in three countries, Germany, Japan, and the United States, but Spain and Italy are poised to be the next high-growth European markets, and China is expected to possess the world's largest solar market by 2020.
Solar Night Industries has already developed its own signature consumer line, outdoor Solar Flowers where a solar photovoltaic captures the Sun's energy during the day enabling the flowers to glow brilliantly at night. The company is actively seeking other solar products that need distribution, with an eye to making breakthrough sales through web and TV marketing, and through catalog and retail sales outlets.
Recently, SNI Inc. announced the development of its new consumer commodity, The Solar Night Chip, that can be used to power a variety of renewable energy products. Using its production experience in China and the research of its solar engineers, SNI's Technology Transfer Division is identifying solar trends and application, and is seeking partners who have great ideas, but who could not execute with shorter-life chips.
SNI acts as a clearinghouse for solar and alternative energy innovations, and is seeking additional solar products under private label that could benefit from SNI's global networks and contacts. SNI has also established a Fulfillment Center in St. Louis, Missouri for affiliate companies that desire U.S. distribution but that do not have those channels already in place. Manufacturers and licensees are encouraged to submit new products to SNI via its website for consideration of fulfillment services, global distribution and optimization.
About Solar Night Industries, Inc.
Solar Night Industries, Inc., based in St. Louis, Missouri (USA), is a global manufacturer and distributor of innovative solar products. The company was founded by technology, manufacturing and sales executives with extensive industry experience and proven track records of success. The company has operations in St. Louis, Missouri and Sarasota, Florida, with affiliate offices in Mainland China. The company is developing products for consumer, business, and government markets. For more information, please visit http://www.SolarNightIndustries.com.
Safe Harbor Statement
This press release contains forward-looking statements which are made in reliance upon the "Safe Harbor" provisions of the Private Securities Litigation reform Act of 1995. Actual results could differ materially from the statements expressed or implied herein due to a variety of factors including, but not limited to: the development of Solar Night Industries' solar cell technology and solar solutions, ability to secure additional financing, the successful marketing and distribution of Solar Night Industries' products, market acceptance of Solar Night Industries' products and technology, competition and timing of projects and trends in the solar industry, as well as other factors. The forward looking statements contained herein are made only as of the date of this press release, and Solar Night Industries undertakes no obligation to publicly update such forward looking statements to reflect subsequent events or circumstances.
CONTACT:
Solar Night Industries, Inc.
Jason Loyet, President
314.922.0154
# # #