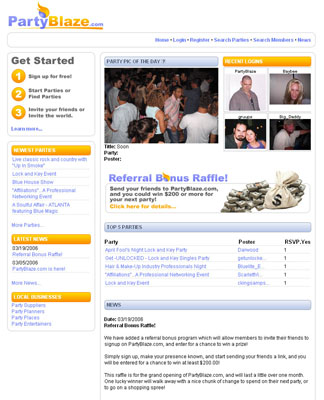 What was your friend's name? Could I get her phone number?
Pompano Beach, FL (PRWEB) March 21, 2006
Since the Final Four games in Indianapolis are sold out, most NCAA fans will be hosting their own March Madness parties. PartyBlaze.com is a new and novel way to plan or find these and other events online for free.
PartyBlaze.com is an online event connection that aims to keep partygoers in touch both before and after the party. Members can chat live to see who will be attending or to find out more information on another guest they met at the party. This is a simple solution to that question that everyone gets after hosting a party, "What was your friend's name? Could I get her phone number?" PartyBlaze.com eliminates this party-hosting hazard and enables the guests to find out for themselves with the live chat featured on every party details page.
When users post parties online, they can also find local party planners, party supplies, places, and entertainers by typing in their zip code. Or, users check for Final Four parties or other events in their area by entering the zip code and radius in miles to search.
Using PartyBlaze.com is simple. After creating an individual or business account, party planners can then post private or public parties online. When someone RSVPs, the online event planner is notified and can then make accurate predictions for all of the party supplies that will be needed.
Members can also create a friend list for easy invites with one click. Although it is unlikely that people would want to send invitations worldwide for their Final Four festivities, they could do it with PartyBlaze.com. As long as party planners are 18 or older, PartyBlaze.com is free to use—no matter what country they live in.
Founder Richard Carroll anticipates a bright future for his company, "PartyBlaze.com is a young and dynamic company, who's goal is to bring the world a fun and exciting new place to help plan upcoming parties or find something fun to do over the weekend. I am excited to see how the site will grow and transform from member requests and interaction."
To plan parties online or to find local party supplies please visit PartyBlaze.com.
About PartyBlaze.com:
PartyBlaze.com is the latest innovation of Richard Carroll. Richard is also an experienced graphic designer and webmaster. A division of Urban Studios, LLC., PartyBlaze.com is for anyone in the world over the age of 18 to plan or find a local party online.
###