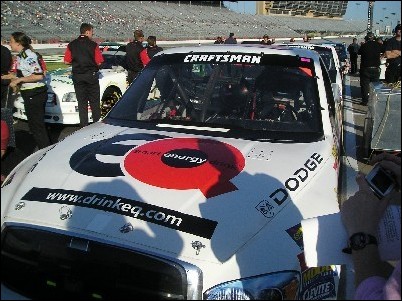 We're all working towards the same goal. When we succeed, EQ succeeds. When EQ succeeds, we succeed.
Bethesda, MD (PRWEB) March 21, 2006
On Friday, March 17th, 2006, EQ (http://www.drinkeq.com) officially announced its partnership with Curry Racing, Inc (http://www.curryracinginc.com) at the Atlanta Motor Speedway. This occasion marked the first time an African-American owned team raced in a NASCAR Craftsman Truck Series. His legacy, however, will be the positive changes he is helping bring about both within NASCAR and in society as a whole. Former NFL star and University of Michigan alumni Julius Curry will be the sole owner of the NASCAR race team with the young and talented Chase Montgomery driving. EQ, Curry and Montgomery are scheduled to compete in at least 10 races this season and run at least five NASCAR Busch races with the goal of racing the Busch Series full-time in 2007.
As the only minority-owned race team currently in NASCAR, Curry sets the stage as a pioneer to welcome a new and diverse culture to the sport of racing. During the press conference, Curry stated "Our being here today is a testament to NASCAR's commitment to diversity through minority team ownership." Curry hopes his efforts will pave the way for sponsors to eagerly enter the NASCAR arena and build successful sponsorships with minority-owned teams. Recently, NASCAR has become instrumental in 'Drive for Diversity,' a program dedicated to diversifying NASCAR's participant and audience base and bringing notoriety to names such as Hispanic driver Aric Almirola, female drivers Erin Crocker and Kelly Sutton, and African-American driver Bill Lester. Curry Racing's involvement marks a monumental leap forward in this effort and also supports NASCAR's top priority to increase diversity in the sport. Diversity is apparent even in Curry's race team which is comprised of the young Chase Montgomery, female driver Leilani Munter, African-American driver George Mack and seasoned veteran Ricky Craven. In a proclamation from the mayor, Curry was also honored by Clayton County, Georgia Friday evening for his efforts in creating a name for minority teams and participants in the sport of racing.
Curry's new and innovative team leadership saw a natural fit among aspirations with EQ, the Smart Energy Drink. As a unique and rapidly growing company, EQ is thrilled to partner with Curry Racing as well as support the movement to diversify the sport. The company provides an opportunity and the support for this diverse team to make a difference in the NASCAR community. Now, two organizations, on the forefront of their industries breaking away from the norm, will partner to make a groundbreaking impact on the sport of racing. According to Teresa Chen, Marketing Director at EQ, "Through this synergy and unique relationship, we can further advance racing to a new and broader audience. People who never had an interest in the races such as women and people of many cultural diversities will now be encouraged to become NASCAR fans and will grow the huge fan base larger than it has ever been in the past. Racing is one of the fastest growing consumer watched and corporately sponsored sports in the World. We are so happy to be involved in bringing together a diverse ethnic fan base and of course, supporting the success of Chase and Curry Racing." Through its sponsorship, EQ® joins the ranks of companies such as Cheerios®, Home Depot®, Miller Lite®, Best Buy®, and Jack Daniel's® and owners such as David Letterman, Paul Newman and Redskin's Coach Joe Gibbs.
Ray Montgomery, a long-standing force in the sport of racing and VP of Operations at Curry Racing will play a key role in ensuring success of the team as well as making the most of their unique partnership. His experience in the sport will enable Curry Racing and EQ to make a bold impression on NASCAR. Montgomery states, "We're all working towards the same goal. When we succeed, EQ succeeds. When EQ succeeds, we succeed." Driver and son, Chase Montgomery adds, "I've been through a lot of ups and downs the last few years, but I'm real optimistic about this situation and I think we've built a real quality race team."
EQ represents the cutting-edge revolution in energy. Through innovative technology, this product is the first to hit the US market as an effervescent energy tablet that can transform any liquid into an instant energy drink. It offers a caffeine boost and also touts a healthy mix of essential vitamins and minerals, making it perfect for consumers of all kinds, from partiers to health nuts to racecar drivers. Since its launch in late December, EQ has gained increasing popularity among consumers of all backgrounds through its exposure at events such as New York City's Fashion Week and Super Bowl XL in Detroit.
For more information, please contact Teresa Chen at 800.884.5771, extension 234.
###