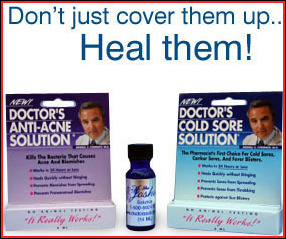 I cannot compete with their advertising budgets, word of mouth is my only source of advertising and has kept me in business, hopefully with a web presence word will get out to the world
Phoenix, AZ (PRWEB) March 23, 2006 –-
Merrill S. Chernov, MD, has spent his working life saving lives. Thirty years ago while working in the burn unit of a Phoenix hospital, he created an anti bacterial solution for the skin. He soon after discovered the solution also had a remarkable ability to treat and rapidly heal cold sores and acne. In 1979, Dr Chernov founded the Joshua Skin Care Center, located in Phoenix, Arizona, where to this day he continues to sell his cold sore and acne solutions to the public.
"When you get to my age it is difficult to embrace emerging technologies such as the internet, but I have been encouraged by hundreds of loyal customers to create a website so folks could order our product on line." Anyone who clicks on the doctor's website will be amazed to see all of the viewable cold sore, canker sore and acne treatment testimonials, some dating back to the 70's. "Customers as far as Australia and Israel have purchased our cold sore remedy. Our product works faster than anything available on the shelves, it's that simple."
Over 100 Million Americans suffer from cold sores (HSV-1 Herpes Virus). Amidst all of the remedies available and heavily advertised, Dr Chernov and his loyal customers believe that nothing can come close to his remedy known simply as "Doctor's Cold Sore Solution." When asked about the competition from the large pharmaceutical companies Dr Chernov smiled and said " I cannot compete with their advertising budgets, word of mouth is my only source of advertising and has kept me in business, hopefully with a web presence word will get out to the world".
Jeffrey Fay, of Truckee, California says, " I have tried all of the remedies for embarrassing cold sore outbreaks… most of them are applied by hand and make a expensive sloppy mess around my lips. Doctor's Cold Sore Solution is a much cleaner application and seems to dry out the area and heal it very quickly…sometimes within one day!"
After using the Anti Acne Solution, Tammy Mercer of Florida wrote, "what a big difference, I have had acne since I was 13 years old. I am 24 and have not been able to see my skin color because it was always red. I am going to continue using this product. I have tried everything. 11 years of this is a long time and it not only hurts the self-esteem but just plain hurts. You have made me believe I will not have this problem forever."
The magical solution is available in two containers; a convenient lipstick sized 4ml roll on tube and a larger 14ml bottle that is applied with a cotton ball.
John Musil, a Scottsdale pharmacist who carries Dr. Chernov's product also comments, "This is the best solution for cold sores and canker sores on the market today. We recommend it at our eleven pharmacies to every one of our customers. It is without equal."
Dr. Chernov has gone one step further with his on-line campaign—he offers a limited amount of the solution per week on EBay, winning bidders can leave testimonials and even write reviews of the product. "Up to now I have 100% positive feedback and have had several " onclick="linkClick(this.href)" rel="nofollow">positive guides written for my solution on EBay," Dr. Chernov says. Additionally Dr Chernov noted "there are not many medical solutions off the shelves that offer a 60 day money back guarantee, that is how confident I am that we will get return customers and NOT returned products."
Dr. Chernov operates the Joshua Skin Care Center in Phoenix Arizona. He also offers proven remedies to relieve shingles and chicken pox which is caused by the herpes zoster virus.
He is also the founder of a non-profit organization people saving pets and insists that none of his solutions have been tested on animals.
For more information:
Merrill S Chernov MD
Joshua Skin Care Center
(800) 992 0125
http://www.doctorscoldsore.com
# # #