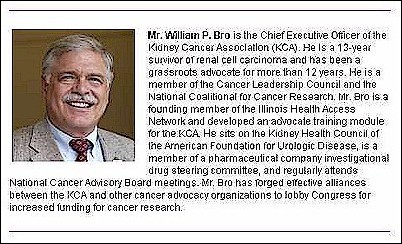 We believe there will be an excellent turnout for this first-of-its-kind event. The KCA is pleased to provide financial assistance to the Foundation for the National Institutes of Health in support of this valuable meeting
New York, NY (PRWEB) March 26, 2006
The Kidney Cancer Association (KCA) today announced a $5-thousand grant to the Foundation for the National Institutes of Health (NIH) in support of a summer meeting for cancer advocates in Bethesda, Md.
Listening and Learning Together: Building a Bridge of Trust, a summit hosted for the cancer advocacy community by the National Cancer Institute Director's Consumer Liaison Group (DCLG), will be held June 19 - 20 in the Natcher Conference Center on the NIH campus.
"This meeting affords cancer advocates an excellent opportunity to learn from experts about the latest NCI scientific programs," said KCA president Bill Bro, a member of the DCLG. "We believe there will be an excellent turnout for this first-of-its-kind event. The KCA is pleased to provide financial assistance to the Foundation for the National Institutes of Health in support of this valuable meeting," Bro added.
Participants will be able to tour the NIH campus, brainstorm in breakout sessions, and hear the latest research on survivorship. Summit registration closes May 31, 2006 and scholarship applications will be accepted through the end of this month.
The KCA was founded in 1990 by Dr. Eugene P. Schonfeld and a small group of kidney cancer patients. It has grown to serve people in more than 100 nations. According to the American Cancer Society, more than 38-thousand Americans will be affected by kidney cancer this year. There is no cure for the disease. The KCA's mission is the eradication of death and suffering from kidney cancer.
# # #