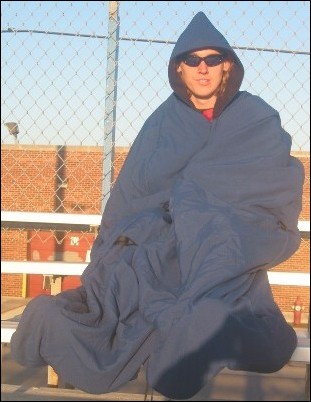 The MyPod product line is so versatile, we see it having virtually unlimited potential
Brookfield, IL (PRWEB) March 24, 2006 - Athletique Introduces the DuPod -
Like a Blanket, Like a Sleeping Bag, Only Better.
Chicago based apparel and accessory company, Athletique announces their latest addition to the MyPod family of products, the DuPod. This new product is the latest addition to their sports accessory line, taking their patent pending design to a new level. The DuPod offers all of the features of the Original MyPod and more.
Named the DuPod because it is double layered, with a waterproof nylon Taslan layer on the outside and soft, warm fleece on the inside. It is also called the DuPod because it has dual functionality - for use as a wrap at outdoor events in the rain or snow, or for use as a sleeping bag.
Like the MyPod, there are no zippers, bags or separate straps. Use the simple closures to wrap your entire body, including your feet, then simply roll it up, wrap the attached strap around it and carry it by the attached elastic loops. The Mini, Biggie, Grande and Mucho sizes also come complete with a detachable hood. The Teenie and Tiny sizes offer a great, easy to use cover up for taking babies and toddlers out in rainy or snowy weather.
"The MyPod product line is so versatile, we see it having virtually unlimited potential," stated Athletique CEO Terry Cawley. "The DuPod offers the consumer one more option, with a product that is both warm and waterproof. It functions either as a blanket wrap or a sleeping bag, with the same great design elements of the Original MyPod and the Terry MyPod. The opening in the middle coupled with the easy closures, gives it a great advantage over traditional product designs. The unique configuration also makes it versatile for use by people of all shapes and sizes."
Athletique Inc. is a privately owned corporation, headquartered in the Chicago Suburbs with manufacturing in both Chicago and Thailand.
They provide classic clothing, sportswear, athletic wear and accessories to individual consumers, teams and organizations through their two websites, independent agents and Retail Partners.
Their clients include:

Individual High School, College, Professional, and Retired Athletes
Youth, College and Professional Sports Teams and Clubs
Companies, Groups and Organizations
Specialty Clients in the Media and Film Production
More information regarding Athletique can be found by visiting their two websites, http://www.mypodbyathletique.com and http://www.myathletique.com.
###