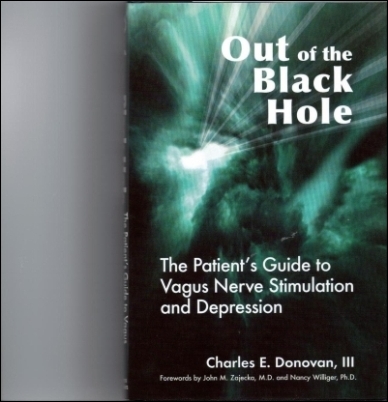 Out of the Black Hole: The Patient's Guide to Vagus Nerve Stimulation and Depression
St. Louis, MO (PRWEB) March 24, 2006
After the FDA's recent approval of vagus nerve stimulation as a new depression treatment option, Charles E. Donovan III has released a new edition of his book, "Out of the Black Hole: The Patient's Guide to Vagus Nerve Stimulation and Depression."
Donovan, a former sufferer of chronic depression and patient in the study on vagus nerve stimulation, wrote the book to help patients who suffer from treatment-resistant depression (TRD) make informed decisions by providing an easy-to-understand explanation of the implant procedure. The treatment is not a cure for TRD, but now that FDA has approved the procedure, it offers hope to the desperate millions of patients for whom no other depression treatment works. It is the first FDA-approved long term treatment option for TRD; it provides an option that's safe, effective, tolerable and without the side effects typically seen with medications and ECT.
"Out of the Black Hole: The Patient's Guide to Vagus Nerve Stimulation and Depression" (©2006, $29.95 cloth, http://www.VagusNerveStimulation.com) details Donovan's battle with the disease, his participation in the medical breakthrough clinical trial of vagus nerve stimulation and his journey out of the black hole of TRD. When Donovan initially sought help, he met with doctors from New York City to St. Louis. He tried psychotherapy, countless combinations of antidepressant drugs -- even ECT (electroconvulsive therapy) -- but all had limited or no results. As his options ran thin, he learned about an investigational study for a new depression treatment for TRD. Donovan, knowing he had nothing to lose, volunteered as a subject for a clinical study of vagus nerve stimulation.
The trial was meant to determine if vagus nerve stimulation would help those suffering from treatment-resistant depression. Donovan was one of 200 patients from 20 different hospitals throughout the United States who participated in this trial. The average patient in the study had suffered lifetime depression of 25 years. Unlike most standard clinical trials, for a patient to be considered as a study subject for this trial, they had to have failed to adequately respond to all legally available antidepressants. The patients (including Donovan) who were enrolled for this trial had severe cases of TRD and were deemed the most difficult to treat.
On April 4, 2001, Donovan had a vagus nerve stimulator implanted. Over the course of several months, with preset stimulation to his left vagus nerve, Donovan went from seeing no hope of anything good happening to him any time in the future to being only occasionally pessimistic about his future, believing that for the most part, things would get better. Gradually, he began to have an optimistic view of his future. Today, he says his life is normal, full of joy and genuine happiness.
Donovan, one of the estimated 4 million people in the United States today suffering with TRD, hopes his story about this form of new depression treatment and the information he includes in his "Patient's Guide" will help those suffering to find their way out of the black hole.
Donovan is the founder of VagusNerveStimulation.com, as well as the editor of the VagusNerveStimulation.com bulletin. He was a presenter at the FDA Medical Devices Panel meeting in Washington, D.C., which recommended approval of this treatment. His book will be part of a 60-minute documentary on the Discovery Channel in late April.
For more information about vagus nerve stimulation as a new depression treatment and Donovan's book, visit http://www.OutoftheBlackHole.com, or call 1-888-VAGUS88 (888-824-8788).
# # #