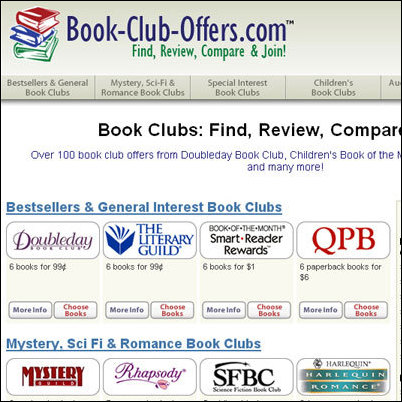 Austin, TX (PRWEB) March 28, 2006
Book-Club-Offers.com was launched in 2003 to guide visitors to the best book club offers available online. Now, three years later, thousands of visitors have used the site to join book clubs online. The site features all the major book clubs, Doubleday Book Club, The Literary Guild, and Smart Reader Rewards from Book of the Month Club. The various categories of book clubs include general interest and bestseller book clubs, mystery, science fiction, and romance book clubs, special interest book clubs, children's book clubs, and audio book clubs.
"One of the major requests we got from Book-Club-Offers.com visitors," said site designer Cory Edwards, "was the need for a better way to compare book clubs and choose the right one." Since the best book club is different for each person, the editors of Book-Club-Offers.com painstakingly recorded over fifteen variables of information about each club. They then selected the top three book clubs from each category to be prominently displayed at the top of the page, and listed all book clubs from the category below. Visitors are given the option to choose up to three book clubs from these lists and compare them side-by-side on six highly important variables, including price, selection, payment options, and more.
Book-Club-Offers.com also offers a comprehensive review of each book club and its current offer along with numerous articles on joining a book club. The list of frequently asked questions addresses many of the questions that the editors receive about book clubs including how they work, why they charge so little for books, and how to contact customer service for the various book club providers.
Visit Book-Club-Offers.com today to find, review, compare, and join book clubs online.
About Book-Club-Offers.com:
Book-Club-Offers.com is a website for finding, reviewing, comparing, and joining book clubs. The site features compare pages that make it easy to compare book clubs. Book club providers include BooksOnline, Scholastic, Highlights, Harlequin, Simply Audiobooks, Audible, and Jiggerbug. Related book club sites include http://www.Canada-Book-Clubs.com, a site that features Canadian book clubs, and http://uk.Book-Club-Offers.com, a site that features UK book clubs.
# # #