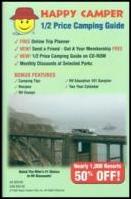 It's not always convenient
Monroe, LA (PRWEB) March 26, 2006
Happy Camper Club, a nationwide RV club offering discount camping to its members, now delivers expanded services to participating rv park and campground owners as a value-added addition to their involvement as host parks for the club.
In addition to free camping guide advertisements for park owners, the club has opened a private, password-protected, RV park operator forum online, designed to help campground owners network together, learn from each other, and share resources that are useful within this sector of the RV market.
Club president, Anne Pierson, explains that "the concept is to give our park hosts a place to meet privately, and at no charge, at their own convenience. There are concerns unique to the campground operator, which can often be solved by reaching out to other park owners, getting advice, or simply getting the phone number of a supplier with a great price. As owners of two campgrounds in Louisiana, we believe it will be productive and fun, and that our fellow park owners will appreciate this opportunity.
"It's not always convenient," Pierson continues, "to travel to an association meeting, make a trip to visit with other parks, or schedule a conference call; and this venue allows our park owners real freedom to network 24 hours a day, 7 days a week - and it's absolutely free, as opposed to many other options available."
The forum will include a buy/sell/trade area, where campground owners are encouraged to list items for sale or trade; such as tractors, lawn equipment, electric boxes, park supplies, office equipment, computers, and other items of use to fellow park owners.
Vendors are invited to share special discounts for the group of owners within the forum; including services unique to park owners, insurance discounts, wholesale inventory for camp stores, and to share helpful information about merchandising, customer service, and other educational topics of interest to campground operators.
The forum will evolve according to the needs of those who participate, expanding into topics as diverse as trading rv site rent to writers for articles published, and RV dealer/referral participation on a local basis.
Campground owners who are current hosts with Happy Camper Club can log on to Happy Camper's sister web site, getting immediate approval for access to the forum at http://www.discountcampingnews.com. Campgrounds that would like to become host parks for Happy Camper Club can apply for their free listings and inclusion in the forum at the web site also. Suppliers and vendors can request inclusion on the forum by registering as new users on the forum, pending approval within 24 hours by email.
RV travelers are invited to the Happy Camper Discount RV Club web site at http://www.camphalfprice.com, an entertaining web site for recreational vehicle travelers, which features a free user forum, half price camping membership, and many other benefits for the camping public.
Happy Camper Club, Inc.
866-677-6453
###