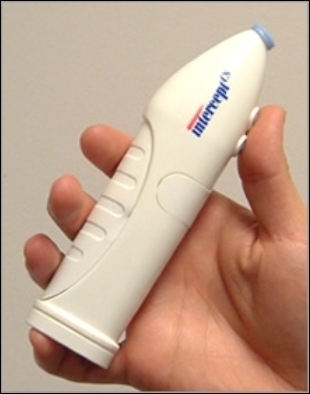 For prevention and relief of the symptoms of herpes labialis (cold sores), such as blistering, lesions, inflammation, and discomfort. Also helps alleviate the embarrassment that is typically associated with herpes labialis (cold sore) outbreaks
Smyrna, GA (PRWEB) March 27, 2006
Winnipeg, Canada March 27, 2006 -- interceptCS™ (http://www.myintercept.com) - is a new and revolutionary cold sore outbreak prevention, remedy and treatment system that is clinically proven to prevent cold sore outbreaks before they begin. interceptCS™ uses thermal heat applied to the surface of the skin to prevent a cold sore lesion and does not involve using any medications, drugs or prescriptions such as messy cold sore creams and ointments. In Canada, interceptCS™ has been approved as an over-the-counter medical device with the following claim:
"For prevention and relief of the symptoms of herpes labialis (cold sores), such as blistering, lesions, inflammation, and discomfort. Also helps alleviate the embarrassment that is typically associated with herpes labialis (cold sore) outbreaks".*
Millions of people suffer recurrent bouts of cold sores. Over-the-counter remedies are the mainstay treatment for cold sores, although such products generally provide only partial symptomatic relief and do not speed the healing of the lesion or prevent the outbreak in the first place.
Advantages of the interceptCS™ system over traditional cold sore treatments:
Prevents cold sore outbreaks vs. just treating them
Topical, no messy ointments or gels
No doctors appointment or prescription required
Natural (drug free)
No side effects from medication
Non invasive, non systemic
Cost effective
For additional information on cold sores, oral herpes, fever blisters, herpes labialis or herpes sores and the herpes simplex virus (HSV-1) that triggers or causes cold sores and information on interceptCS™, we encourage you to explore our website at http://www.myintercept.com.
How to order: Either complete the interceptCS™ order form attached to this release and fax it back to us toll-free at 1-888-524-HEAL(4325) or call us toll-free at 1-888-525-HEAL(4325) to place an order over the phone.
The order form can also be found on our website at http://www.myintercept.com along with more information about how the interceptCS™ system works and pricing.
Special Online Offer: From now until the end of April 2006, receive 10% off your order by using this promo code: ENDCS (Insert code in the promotional box on the form)
Cross Border Intercept Inc., based in Winnipeg, Canada, distributes InterceptCS through their website (http://www.myintercept.com) or by calling 1-888-525-HEAL (4325).
Regulatory approvals are being pursued for USA, Europe and Australia. The device is not FDA approved. (These statements have not been evaluated by the FDA).
Media Contact:
Kyle Soble
Ph. 1-888-525-HEAL(4325)
Website: http://www.myintercept.com
###