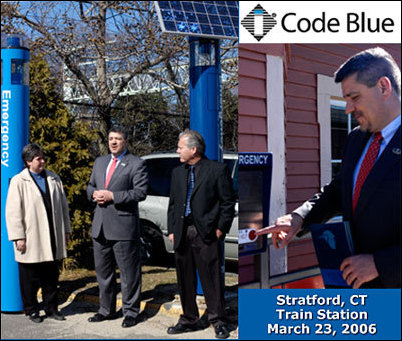 Our very strong commitment to Stratford stems in part from the fact that we are part of the community
Stratford, CT (PRWEB) March 30, 2006 –
Eleven Code Blue emergency phones have been installed at key public locations in Stratford, CT by The Mercury Group, a Stratford based company. Mercury provides design and installation services for communication systems for end users, equipment manufacturers, electrical and general contractors. Stratford's Mayor Miron recently met representatives from The Mercury Group at the Stratford, CT train station to view and interact with the emergency phones for a public demonstration. Code Blue also sent their Demo van to this event.
"Towns are and will continue to be centers of great vitality but Post 911 has also, made us aware of how vulnerable our communities are. Stratford and other urban centers around our nation are now faced with the task of providing protection for their community and its infrastructure. This is a task that calls for the mobilization of all of their resources, including their Technology Partners. With the addition of Code Blue Emergency Communication devices, the town of Stratford and The Mercury Group have taken a vital step in making the Train Station, parks and beaches a safer environment for residents and visitors to enjoy. In an emergency, quick and effective communication becomes a life and death matter. In any public area, Code Blue emergency phones are highly visible, user friendly and give the public a greater sense of security. Proactive urban security means that these emergency telephones will help deter crime. The Mercury Group has installed hundreds of these units on college campuses, parking areas, malls, and municipal parks – throughout Connecticut and New England - anywhere there is a concern for pedestrian/public safety," states Gary Berlin, Vice President of Operations of The Mercury Group.
This project was coordinated by Stratford's Department of Recreation. Four of the eleven phones are located at the Stratford Train station – two on the northbound platform and two on the southbound platform. One of these phones is a solar powered Code Blue 1-D phone which is a nine-foot tall, freestanding, wireless pedestal unit which provides high visibility throughout a full 360-degree area. The other phones at the train station are CB4 wall mounted emergency units. As this time, all four phones at the train station are operational. The remaining phones will be activated by the end of April. Other recreational areas in Stratford have been strategically selected to expand the protection area.
"Our very strong commitment to Stratford stems in part from the fact that we are part of the community" continues Berlin. "We are thrilled to play a part in this important safety project. Providing effective security has never been an easy task. Highly visible security methods are a real crime deterrent and put control for safety into the hands of the community. Security is a prime concern in the twenty-first century for our municipalities, businesses and private citizens."
The Mercury Group is a certified BICSI (Building Industry Consulting Service International) Premier "connectivity contractor". Mercury specializes in virtually any type communication connectivity: video, voice or data – cable, fiber or wireless. Mercury is a top national CODE BLUE reseller and installer in the New England area.
With over 25 years of experience, The Mercury Group is among the most knowledgeable and professional contractors in North America capable of performing a wide range of installation, ongoing maintenance, professional consulting services and product implements for customer, both large and small, in commercial and institutional sectors.
# # #