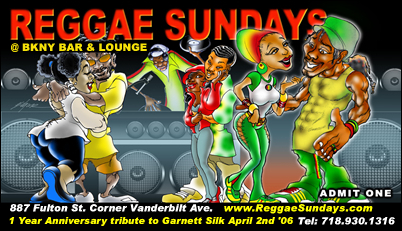 This Sunday is very special because we will pay tribute to an artist that epitomizes what Sizzling Reggae Sundays is all about. Garnett Silk's brand of reggae is the type of music we play and our fans love. It is the type of music that has propelled reggae into the forefront of world culture
New York, NY (PRWEB) March 28, 2006
Sunday April 2nd will mark the one year anniversary of Sizzling Reggae Sundays. The weekly dance party is hailed as "a revival" of the New York reggae scene.
Sizzling Reggae Sunday's 1 year anniversary will pay tribute to a reggae icon, the late Garnett Silk. Garnett Silk was born April 2nd 1966, he would have been forty years old this Sunday.
This week Sizzling Reggae Sundays will feature an all star line up of New York's premier DJs. DJ Jase of Point Blank Sound and WWRL 1600 AM Radio, DJ Silence of 107.9 Flava FM, DJs Kutter & Bradley of On Track Sound and MC Guidance International will all pay tribute to Garnett Silk's legacy. Visitors to the Sizzling Reggae Sundays website can sample Garnett Silk audio clips by visiting the Music Room.
"This Sunday is very special because we will pay tribute to an artist that epitomizes what Sizzling Reggae Sundays is all about. Garnett Silk's brand of reggae is the type of music we play and our fans love. It is the type of music that has propelled reggae into the forefront of world culture," noted producers Terry & Roger of SAi Entertainment. This duo is also behind New York City's longest running reggae dance party "Reggae Retro."
Each week Sizzling Reggae Sundays pays tribute to one of the icons of reggae music. Past tributes include Dennis Brown, Sizzla, Barrington Levy, Beres Hammond, Bob Marley, Capleton, Tanya Stephens, Richie Spice, Freddie McGregor, Sean Paul, Beenie Man, Rita Marley, Gregory Isaacs, Jacob Miller, Buju Banton and U-Roy.
Sizzling Reggae Sundays takes place at BKNY Lounge located at 887 Fulton Street at the corner of Vanderbilt Ave in Downtown/Fort Greene, Brooklyn, New York. Admission for the 1 year anniversary is free before 11PM and $5 after.
Sizzling Reggae Sundays is sponsored by http://www.StudioAde.com. Studio Ade is a natural hair salon that has garnered much attention for its innovative styles and approach to hair care.
QUICK FACTS
What: Sizzling Reggae Sundays 1 year anniversary
Date: Sundays April 2nd 2006 Time: 10:00pm
Where: BKNY Bar & Lounge, 887 Fulton St., Corner Vanderbilt Ave. Downtown, Brooklyn, NY
Admission: Free before 11pm $5 after.
Info: http://www.ReggaeSundays.com or Telephone 718.701.4103
Audio Samples: Visit the Music Room.
Contact: Roger Thomas
SAi Entertainment
Tel. 718.701.4103
Fax. 718.775.3411
# # #