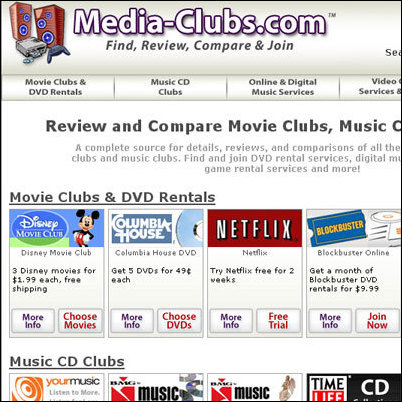 Austin, TX (PRWEB) March 29, 2006
Media-Clubs.com was launched in 2005 as the one-stop source for finding, comparing, reviewing, and joining movie clubs, music clubs, and video game clubs online. "One of the things we heard from site visitors time and time again," said site developer Ryan Edwards, "was that they wanted a quick way to compare the top clubs." Media-Clubs.com solved this problem by making it easier to find and compare the best clubs by prominently displaying the three top clubs in each category and listing all the clubs in the category below the top three. Site visitors can choose up to three of the listed clubs and compare them side-by-side.
In addition to being upgraded, Media-Clubs.com now has a number of new clubs. There are four new DVD movie clubs. Disney Grown-Up Films features grown-up titles such as Sweet Home Alabama. The Movie of the Month Club sends popcorn, candy, and a Blockbuster gift card good for one movie rental each month. Time Life DVD Collections features hundreds of dramas and TV series available for purchase. The William Shatner Sci-Fi DVD Club sends a different sci-fi movie to members every month.
Existing movie clubs at Media-Clubs.com, such as the Walt Disney Movie Club, can easily be compared with new movie club options. Available DVD rental online services include Netflix and Blockbuster. A DVD trading service, Peerflix, has also been added to the site.
Three new Music CD clubs have also been added to Media-Clubs.com. Time Life CD Collections features multi-volume sets with favorite songs from various time periods. The YourMusic Gift Subscription allows the gift recipient to choose a CD every month. Wal-Mart Music Downloads features 88¢ downloads of over a million songs. Visitors can easily compare music download services, such as Wal-Mart and iTunes, to see which suits them best.
A new video game rental service has also been added to Media-Clubs.com. RentZero offers a free 14-day trial and has over 2,000 titles. Users can easily compare RentZero with industry leader, GameFly. Video game subscriptions from GamePass and GameBlast are available for site visitors to compare and enjoy. Site visitors can even compare online video game services to video game rental services to see which type of service is most appropriate for them.
With a barrage of available media club choices, Media-Clubs.com makes it easy to find, compare, review, and join all the top-rated clubs online. Visit Media-Clubs.com and join a movie, music, or video game club today.
About Media-Clubs.com:
Media-Clubs.com is a website for finding, reviewing, comparing, and joining movie, music, and video game clubs. The site features compare pages that make it easy to compare book clubs. Media club providers include Columbia House DVD Club, BMG Music CD Club, YourMusic, Napster, Yahoo! Music, Rhapsody, GameFly and others.
###