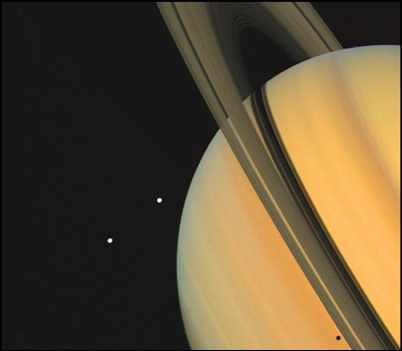 The Spiralock self locking threaded fasteners retained a tight seal at 300° C
Madison Heights, MI (PRWEB) March 29, 2006
A recent issue of Nature Magazine reports that the European Space Agency's Huygens probe validated a new model of the evolution of Titan, Saturn's largest moon. The Huygens probe revealed Titan's methane supply might be locked away in a kind of methane-rich ice, potentially originating underground. For atmospheric measurement of Saturn and Titan, NASA used Spiralock self locking threaded fasteners to resist vibration and temperature-induced thread loosening on mass spectrometer instrumentation.
While your product may not travel the equivalent of 450,000 round trips between Los Angeles and New York City--the distance the Cassini-Huygens spacecraft has traveled in exploration of Saturn and its moons--it must function in your marketplace with minimal failure, since your brand's reputation depend on its reliability. Yet your product's underlying reliability depends on how well it's physically held together by nuts and bolts, which may loosen or fail under shock, vibration, or extreme temperature.
For fail-safe atmospheric measurement of Saturn and Titan from the Huygens probe, several hundred bolts and lock nuts have had to keep vacuum-tight sealed cavities secure with no thread loosening or stripping, despite shock, vibration, and temperature extremes including rocket launch, atmospheric re-entry, and the sub-zero chill of space.
"To survive the vibration and high temperatures of launch, we required the most reliable locking engagement thread," said Dan Harpold, a NASA scientist who worked on the project. "Screws and lock nuts had to remain tight without opportunity for re-tightening. With conventional threading, however, screws and lock nuts loosened up and backed out under testing."
In an effort to satisfy NASA's and the European Space Agency's stringent reliability requirements, unique self locking threaded fasteners were used. With no ability to tighten or replace loose or stripped fasteners after launch, the chosen thread locking form, by Madison Heights, Mich.-based Spiralock Corp., would have to hold until mission completion.
What makes the Spiralock self locking threaded fasteners unique is a 30º "wedge" ramp cut at the root of the female thread. Under clamp load, the crests of the threads on any standard male bolt are drawn tightly against the wedge ramp. This not only eliminates sideways motion that causes vibrational loosening but also distributes the threaded joint's load throughout all engaged threads, a claim supported by research conducted by the Massachusetts Institute of Technology.
NASA conducted a number of tests including a series of about twelve high-temperature "bake outs," where screws and their matching internal thread forms were heated from room temperature to 300° C to simulate temperature-induced thread loosening.
"The Spiralock self locking threaded fasteners retained a tight seal at 300° C," says Harpold. "Once torqued down properly, the screws stayed put in the threads, which helped us meet our flight schedule. To date, not one has come loose that I'm aware of."
In other studies, the Spiralock thread locking form's load percentage on the first engaged thread was shown significantly lower than standard thread forms, which further reduces possible bolt failure and improves product performance. The self locking threaded fasteners also allows for both thermal expansion and contraction without slippage, an important consideration for extreme conditions.
# # #