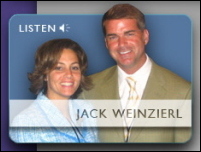 We've never seen a (network marketing) company built on a solid Christian foundation that attracts team members that exemplify the integrity, excellence and entrepreneurial spirit that our organization is committed to
Flower Mound, TX (PRWEB) March 29, 2006
Advantage Conferences, LLC and Jack Weinzierl, a Christian entrepreneur joined forces 13 months ago and are pleased to report personal commissions earned total $544,000 for the 13 months ending today.
"We've never seen a (network marketing) company built on a solid Christian foundation that attracts team members that exemplify the integrity, excellence and entrepreneurial spirit that our organization is committed to," said Jack Weinzierl. "We view Advantage Conferences as an oasis of integrity, for those who are tired of the typical get-rich-quick hype and empty promises that are so prevalent in today's online business environment. And where else can you partner with MBA's, presidents, chairmen, coaches, successful entrepreneurs and advisors who have a vested interest in your success?," he continued.
"We are focused on bringing 100 additional Christian entrepreneurs to the next Millionaire Mindset Conference in Dallas, TX. We are searching for those individuals who are ready to learn and grow – someone who can appreciate the value of the knowledge and advice that highly successful Christian millionaires and mentors transfer into the lives of those who want to emulate their sustained productivity and giving for God's Kingdom," said Jack.
You can learn more at: http://OneOasis.com
About Advantage Conferences:
Advantage Conferences is a Christ-centered educational products marketing organization. The Company is a privately owned LLC, founded and chartered in June, 2003 by Tim Darnell, President. Its purpose is to distribute positive personal development, inspirational, motivational, and instructional materials into the marketplace with the express intent of improving customer's lives.
If you want to be a millionaire, you must "think" like a millionaire. Advantage Conferences Millionaire Mindset Conference carefully selects Christian multi-millionaire mentors from a variety of different backgrounds and industries who donate their valuable time to tell their stories, teach their deepest beliefs, and offer their most pertinent advice. The conference takes place in an intimate, interactive classroom setting where MMC Attendees are "tuned in" to this unique, life-changing education. Most recent conferences were in Orlando, FL and Dallas, TX.
Advantage Conferences products are only available through independent Advantage Conferences representatives.
Important: Others' results are no indication of what your results may or may not be. Any calculations or numbers presented are not projections or predictions for your or any person's income, but are simply displayed to show how numbers could work in a perfect business scenario. Some Reps make no money at all in this or any business for a variety of reasons. All business requires consistency of effort, personal learning, personal development, ongoing action, and a host of intangibles, including an excellent attitude, resourcefulness, resiliency, sustained unwavering belief, positive expectancy, leadership skill development, marketing skill development, posture, etc. Top income earners reflect all of the aforementioned intangibles. If you value these intangibles and are willing to work on, learn, and enhance these qualities in your personal life, then you could be a good candidate for an entrepreneurial endeavor such as Advantage Conferences.
###