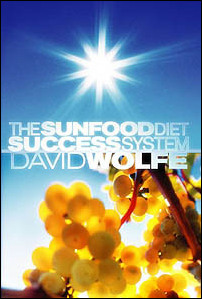 father of the raw food movement
LOS ANGELES (PRWEB) March 29, 2006
Eight years have passed since the first edition of David Wolfe's groundbreaking book The Sunfood Diet Success System, considered by many to be the "bible" of the raw food movement. In this fully updated and expanded version, Wolfe offers 36 key lessons on longevity, abundance and life transformation – all rooted in popular notion that "we are what we eat."
Combining elements from ayurveda, traditional Chinese medicine, macrobiotics and other practical systems, The Sunfood Diet describes exactly how to adopt, maintain, and stay centered on an 80, 90, or 100% raw food diet by balancing the three food classes that make up "The Sunfood Triangle" – green, leafy vegetables, sweet fruits and fatty plant foods.
Inspired by the legacy of Napoleon Hill, Earl Nightingale and others, Wolfe incorporates our relationship with food as a key element in the art and science of achievement. The Sunfood Diet brings organic and raw food to a new generation. Emphasizing a direct link between diet and success, Wolfe explains the importance of making consistently healthy food choices in order to help attain success in life.
"What we eat radically affects the way we feel and behave," says Wolfe. "By improving your food choices, you will dramatically improve the foundation upon which your life is built."
Each lesson in the book offers practical advice on how to achieve superior health – both physically and spiritually – and contains thought-provoking action steps to help readers attain their goals. Complete with weekly menus and delicious, healthy recipes, The Sunfood Diet is an essential guide to the way in which food can help us live a healthier, happier life. In the book, readers will learn:
Rapid-results remedies for specific food-related issues including energy levels, stress, health conditions (colds/flu, headaches, upset stomach, hangovers), and depression
Three easy steps to slowly transition to the Sunfood Diet: detoxification, rejuvenation and refinement
Specific guidelines for combining foods
New insights into the mind/body/spirit connection
The importance of goal setting and keeping a journal
About the Author:
David Wolfe is a world-renowned authority on raw food nutrition – a lifestyle and diet that has swept through Hollywood and far beyond. Author of the powerful and hugely popular books Naked Chocolate and Eating for Beauty, Wolfe is one of the most sought after health and personal success speakers in the world today. Over the past ten years, he has hosted more than 1000 lectures and raw food retreats in the United States, Canada, Europe, the South Pacific and Central and South America. Wolfe, often called the "father of the raw food movement," has provided commentary for numerous media outlets around the world.
The Sunfood Diet Success System
by David Wolfe
Format: Hardcover
Pages: 613
ISBN: 0-965-3533-X
Price: $39.95
Publisher: Maul Brothers Publishing
###