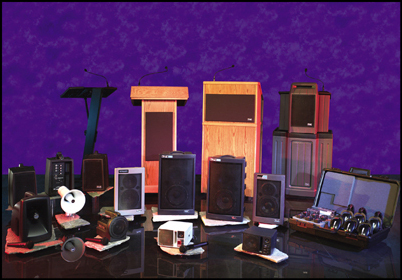 Torrance, Calif. (PRWEB) March 29, 2006
Anchor Audio, Inc., an industry leader in the portable PA system manufacturing sector for over 25 years, announces the promotion of key individuals to improve operations and better serve their rapidly expanding customer base.
Michael Kim was promoted to VP of Operations from Director of Manufacturing. Kim has over nine years of experience in manufacturing, including employment with NASA on a Phase Two Project at the Glenn Research Center in Cleveland, OH.
Kim has been with Anchor Audio, Inc. for the past two years and has implemented his experience in lean manufacturing to ensure the profitable and efficient manufacturing of the company's entire portable public address system line. Kim is a graduate of the University of California, Irvine, with a Bachelor of Science in Mechanical Engineering.
Additionally, Robert Rutten was promoted to European Sales Manager. Rutten has been Anchor Audio's Holland based distributor for over 20 years. He brings a wealth of experience to the European market. With the goal of expanded sales in the portable public address system market, Anchor Audio will also be adding their successful wireless intercom system to their available product lineup in Europe.
Anchor Audio manufactures its portable wireless intercom system and PA system products in its own factory in Torrance, California. Thousands of satisfied customers find that Anchor's easy to use PA system produces highly intelligible sound. Prestigious users of the Anchor Audio portable PA system and wireless intercom system include the White House, British Parliament, the Hague, all branches of the U.S. military, the Swiss Army, renowned universities, major resort hotels including the Hotel D'Arts, national and regional parks, and a diverse group of municipal users including parks, police departments, and city administrators.
Whether you are a classroom teacher, coach, theater director, church minister, city mayor or emergency crowd control officer, Anchor makes a portable public address system with your needs in mind.
Anchor's portable public address systems are battery or AC powered, capable of covering crowds up to 5,000 – indoor or out, and are built for users with no technical knowledge. versatile portable public address systems like this can be used for giving speeches in auditoriums, making sports announcements in gyms, giving instructions to the marching band on the athletic field, or putting on a play in a small theater.
Anchor Audio manufacturers its portable PA system using a "total quality" concept. All of Anchor Audio's products are backed by a six-year warranty, the longest offered in the industry. Through strict controls on its in-house speaker manufacturing, six quality control tests on 100% of products, and maintenance of large inventory for immediate shipment, Anchor Audio has earned its reputation for quality among a loyal customer base including: the U.S. military, the White House, the FBI, numerous police departments throughout the country, and literally thousands of schools, universities, and academic institutions.
###