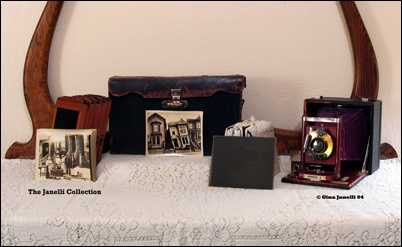 (PRWEB) March 29, 2006 –
San Francisco earthquake pictures, part of the Janelli Collection and featured by Real Image Productions, will be displayed for the first time since the 1906 disaster this April at the Klamath County Museum. Reprints are now available from http://www.realimagepro.com. Real Image Productions, run by Gina Janelli, not only maintains this archival photo album but also provides event and specialty photography.
This archival photo album has remained sealed until this release. Nothing is known about the photographer, but much is known about how the photos came to be.
At sometime the unknown photographer had purchased a Korona 11 camera at Sunset Bazaar Photo Supplies on 42 Third St. in San Francisco. After the San Francisco earthquake they set about recording the devastation. They created an archival photo album of 35 pictures, wrapped each glass plate negative in tissue paper and placed them in a Taperlite candle box and set them aside along with the camera in its original packaging.
Somehow, the archival photo album and the camera were passed to Peter Janelli, Gina's grandfather. He later passed them down to his son, Pete, who gave them to Gina in 2004. Over all those years, the pictures went undisturbed, never even being moved from their box. It was not until Gina entered a darkroom in 2005 that the photos were reprinted. This archival photo album brought the 1906 earthquake back in vivid detail.
The San Francisco earthquake was the worst natural disaster to befall the United States in the first part of the 20th century and is still one of the most significant earthquakes of all time. In a matter of 30 seconds on April 18, 1906, much of the Pacific Coast city was leveled. The San Francisco earthquake and subsequent fires killed between 3,000 and 6,000 people. Up to 300,000 of 400,000 people in the city were left homeless, according to Wikipedia.
The archival photo album recording the disaster, the heartbreak and the devastation of a great American city will debut at the Klamath County Museum this April. Preview the San Francisco earthquake photos and order reprints from http://www.realimagepro.com.
Contact:
Gina Janelli
Real Image Productions
PO Box 7869
Klamath Falls, Ore
Tel: (541) 281-9313
###