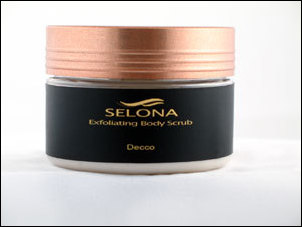 Hartsdale, NY (PRWEB) March 30, 2006
Find it cascading off a garden fence, sweet honeysuckle vines basking in the sun are the symbols of spring. Its tantalizing and uplifting blend of light floral aromas is the perfect opening note to offer a touch of spring to your skin care routine. Open the warmth and crispness of a spring day with sweet honeysuckle. Celebrate the change of seasons with the unforgettable moisturizing smooth formula of Selona's refreshing Sweet Honeysuckle Exfoliating Body Scrub.
As the temperature slowly gets warmer and the days grow longer it's time to retire our winter weary skin and prepare for spring. The right bath and body skincare can help your skin transition from season to season. While you may be singing sweet spring melodies, your skin may still be crying the winter blues. Cold weather works our skin overtime, its winter woes leaving behind scaly or dull skin.
Changes in temperature, humidity, sunlight and allergens can have a direct effect on skin clarity. Smooth your way to a clearer complexion with Sweet Honeysuckle Exfoliating Body Scrub. Packed with pure sugar granules and rich emollients that remove dead skin cells and moisturize for an all over body glow, Selona's ultra-luxe bath and body solution provides intense moisture that instantly revives dull skin. Selona's Sweet Honeysuckle Exfoliating Body Scrub not only polishes and cleanses pores, but encourages the type of stimulation needed to maintain the natural collagen production that provides the texture, resiliency, and shape needed for healthy skin.
Selona's line of luxury bath and body therapies invigorate the skin and provides non-greasy moisture that is perfect for warmer weather. Selona uses nutrients derived from 100% pure unrefined Shea Butter, an element that is widely recognized for its healing qualities. Unlike ordinary moisturizers, Unrefined Shea Butter has vitamins, minerals and proteins to restore the skin's natural elasticity.
Sweet Honeysuckle Exfoliating Body Scrub
Retail Price: $14.00
Experience Selona and ultra-rich body care at http://www.selonabeauty.com.
###