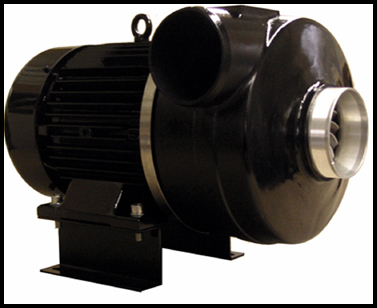 The sensor is programmed so that when a vibration of a certain frequency increases, it can respond
Ventura, CA (PRWEB) March 29, 2006
With approximately 40 fewer parts, no belts, pulleys, tensioners or bulky housings, direct-drive motor technology offers vast improvements in wear life over belt drive systems. While known primarily for dramatically improved energy efficiency, direct-drive motors used in commercial and industrial air knife and blower systems can greatly reduce maintenance costs and efforts, and prevent motor failures from taking down a production line at great expense. "Smart," direct-drive blowers are overwhelmingly more practical to operate than its belt-driven counterparts.
Most manufacturers of high-speed industrial blowers and air knife systems use belts to achieve high speed. Using a belt with a 6:1 ratio on a standard 3,600-RPM motor will produce approximately 20,000 RPM.
"The Achilles heel in a belt system is the tensioner," says Dan Snyder, a development engineer with JetAir Technologies (Ventura, CA). "The tensioner is inherently problematic because it places a lopsided axial force on the impeller shaft. That tension causes wear on shaft bearings, which is eventually going to cause a failure." Snyder adds that belt-drive systems also require continuous maintenance due to belt stretching, wear and replacement every 4 to 12 months.
JetAir, the only major manufacturer of industrial blowers and air knives to use direct-drive motors, has engineered "smart" systems that greatly reduce maintenance costs while providing improved performance.
By using direct-drives, the blower shaft is coupled to the motor, thereby eliminating belts, pulleys and other components that require ongoing attention, adjustment and replacement.
Also significant, JetAir motors offer VFD technology, which allows users to "dial in" the exact motor speed for a given operation. "This enables push button control without a belt change," Snyder explains, "and it also increases the service life of the motor by running at lower speeds when practical."
JetAir is now offering an optional vibration sensor on the motor bearing housing. "The sensor is programmed so that when a vibration of a certain frequency increases, it can respond," Snyder explains. "For example, it could shut down to protect the system, or turn on a light that warns the user that the motor should be inspected or replaced within a certain interval of time. This would enable the efficient replacement of a motor instead of waiting for it to blow."
Snyder points out that while hand-held vibration measurement devices can accomplish the same task, those devices are expensive and require continuous manual checking.
Because direct-drive motors are more compact and lightweight than their belt-driven equivalents, they are easier to service. "A 20 HP belt-driven motor weighs between 350 and 400 lbs.," Snyder says. "Our 20 HP models are less than 200lbs. In addition, when you want to swap out a motor, it is 'plug & play,' with only four bolts, while other motors can take hours or even days to replace."
Although heavy, belt-driven motors are typically too expensive to ship overnight, lightweight direct-drive motors direct-drive units can be shipped overnight with tracking -- a useful benefit when replacement is urgent.
JetAir Technologies offers a complete line of air knife, blower, and vacuum systems engineered for demanding applications between 5-40HP and 4-30kW.
For more information:
Dan Snyder
JetAir Technologies, LLC
1884 Eastman Avenue, #112
Ventura, California 93003
USA, 805-654-7000
info -at- jetairtech.com
or visit http://www.jetairtech.com
# # #