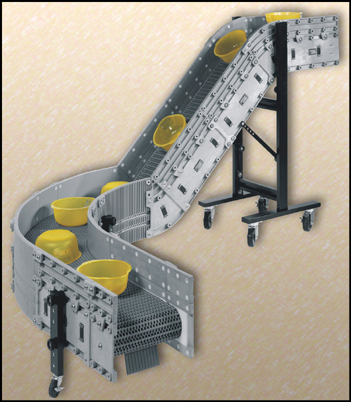 In an integrated production facility or warehouse, a conveyor belt that is difficult to service or change can be a very disruptive and therefore costly.
Muskegon, MI (PRWEB) March 29, 2006
When it comes to conveyor systems, sometimes torn, broken or even stretched belts can create delays that last for hours or days. As opposed to modular conveyors, most conventional conveyor systems are of fixed length and not really designed for making changes, even switching belts for production changeovers can be costly in terms of maintenance and downtime.
"It is very possible for the conveyor to become the weakest link in the chain," says Paul Kuharevicz of Dynamic Conveyor Corp., Muskegon, MI. "In an integrated production facility or warehouse, a conveyor belt that is difficult to service or change can be a very disruptive and therefore costly."
Avoiding such disruptions, as well as adding to increased flexibility to material handling systems, led Dynamic Conveyor to design and produce the world's only truly modular conveyor, the DynaCon system, which also features conveyor belts that are modular, interchangeable, and easy to service.
With extensive experience in the advanced plastics industry, Dynamic Conveyor's engineers developed a light- to medium-duty modular conveyor system composed of high-impact, yet lightweight, plastic modules. A host of accessories, ranging from cooling sections to radius turn units make it fast and easy for users to reconfigure the modular conveyors.
This flexibility of the DynaCon "building block" system indicated to its designers that those same attributes were required of the belts used. Conveyor belts are also modular, composed of a link system that can be quickly adjusted or changed. Belting options include a range of widths and link designs made of tough materials such as acetal, polypropylene and nylon. Drive flights and lift pin separators can be incorporated as needed. Because of plastic construction, incorporating metal detection into the system is no problem.
"Because our conveyor belts are modular, they are composed of many little pieces that are combined into any type of belt or configuration you need," Kuharevicz says. "That design is quite unique. But the other advantage is that you are able to 'grow' your belt with the DynaCon modular conveyors,. The relationship between the belt and conveyor is hand-in-glove."
An appropriate selection of belts is available for various configurations and accessories. For example, polypropylene and acetal belting used for water bath units vary in open area, so large or small items may be conveyed and cooled without risk of products dropping through the belt mesh.
Self-tracking belts are available in 10 styles from 4-inch to 60-inch widths. Some of the more popular optional features include drive flights of 1-, 2- and 3-inch heights,
These modular belts are easy to change and repair. Damaged interlocking designs may be repaired by simply replacing the links as necessary, saving on both the cost of replacement belts and downtime required for maintenance.
Like other DynaCon system components, a selection of belts and replacement links may be kept on hand, for lightning fast changeout.
An array of accessories can be plugged into the durable plastic modular conveyors, by Dynamic Conveyor. Modules of any length make the system easily reconfigured whether expanding, retracting or completely changing shapes and functions.
# # #