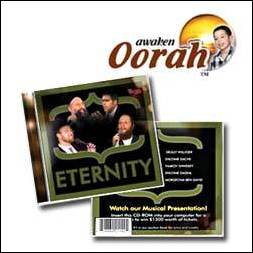 When you see the joy that Jewish tradition brings to fellow Jews, you want to become a part of it.
Lakewood, NJ (PRWEB) March 29, 2006
With great Jewish music and wonderful images of Jewish life at its joyous best, "Eternity," Oorah's newly released, free CD is a non-stop infusion of inspiration.
Five of the most talented singers in the Jewish music world today provided the soaring soundtrack to help the outreach organization Oorah publicize its work.
The first song, "Onu Amecha" by Srully Williger, sets the mood with his stirring rendition of a melody by Hillel Palei. An eight-voice choir revs up the power of the piece, giving the listener a real lift-off.
The second cut, "Ki Yaakov," is Shloime Dachs at his high-energy best. This piece, composed by Avi Kula, provides the backdrop for an exciting glance at the dozens of fabulous prizes featured in Oorah's Chinese Auction.
Yaakov Shwekey, one of the most popular names in Jewish music today, sings the title cut, "Eternity." Composed by Yitzy Waldner and Abie Rotenberg with lyrics by Bella Levitan, the song conveys the message that runs through all the images on the CD, that a Jew without a connection to his heritage is missing his link to eternity.
"Hashiveinu" by Shloime Daskal brings out this singer's smooth, supple vocals and heartfelt warmth. With melody by Pinky Weber, this song is clearly designed to arouse the soul. And it does.
The grand finale is "Oorah," performed by the legendary Mordechai Ben David and composed by Hillel Palei. It's a song whose words, melody and upbeat rhythm combine to create pure inspiration
Altogether, the music and images combine to give every Jewish heart a lift and a sense of pride in Judaism's timeless, vibrant heritage. This unforgettable audio/visual experience is free from Oorah.
"If five of the most sought-after musicians in the Jewish world felt Oorah's work was worthy of their support, we're hoping that everyone who sees this CD will feel the same way," said an Oorah spokesman. "When you see the joy that Jewish tradition brings to fellow Jews, you want to become a part of it."
For Free Music Downloads or to request a free CD visit:
http://www.oorah.org/auction/2006/cd_06.asp
If you appreciate our cause and would like to support Oorah please visit our car donation site.
# # #